News
St Mark's New Minister to be Ordained
7pm Thursday 5 April 2018
We are delighted to be on the verge of officially welcoming our new full-time minister as we continue to serve our community.
On behalf of the Parish Council and the family of St Mark's we invite you to join us at the Ordination and Induction service for David Sang-Joon Kim on Thursday 5 April 2018 at 7pm in our church.
We will share a light supper in our Main Lounge after the service.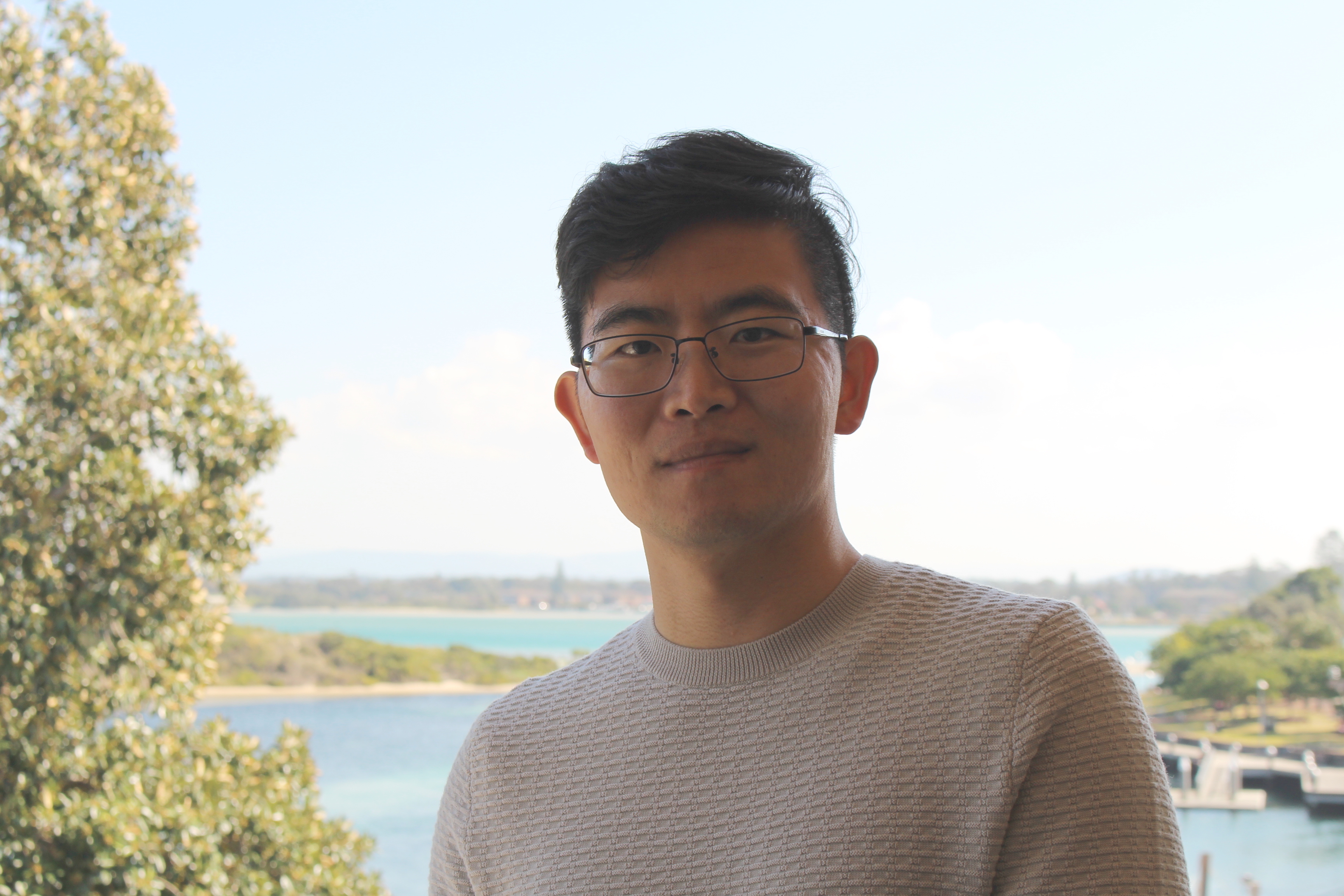 Daily Encourager
The media has a huge impact on people's lives. The Daily Encourager website – 'News that builds people up' – creates a hopeful environment that brings light and life to a world that lives large chunks of its time in despair and anxiety.
Click on the link below to find New Zealand stories that demonstrate courage and initiative, care and compassion, generosity, and love and grace.
New Role – Community Ministry Leader
St Mark's Parish is wanting to appoint a person to a new role in the parish, that of Community Ministry Leader. If you would like a full description of this new part time position please contact the St Mark's Office on 358 5443 or email office@stmarks.net.nz.
Events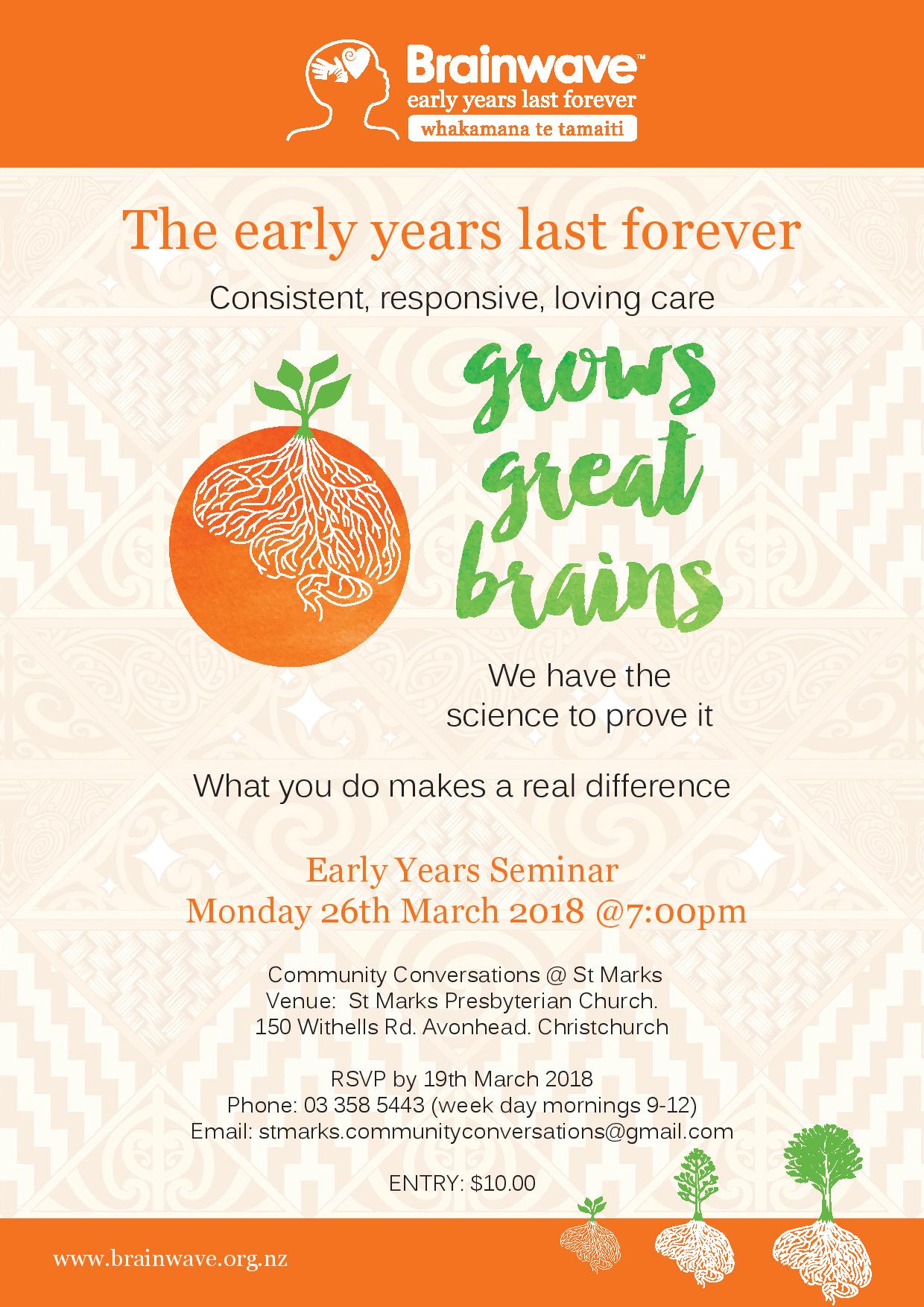 St Mark's Community Conversations
The Early Years Last Forever
26 March 2018
As some of you may have seen on our Facebook page, we are having another Community Conversation at 7pm on 26 March, at 150 Withells Rd. It's two years since we have had Brainwave Trust present on the early years, so we decided that it's time to repeat this very popular topic.
This fresh, engaging and interactive seminar gives you up-to-date research from multiple disciplines including neuroscience, attachment, genetics, psychology and infant mental health. It aims to help build knowledge and understanding of the importance of early brain development and the lifelong impact this can have on children.
Participants will be given information that is likely to affirm much of what you are already doing; encourage you to do some things differently; and, perhaps challenge some of the ways we think about young children, in order to help every child get the best start in life.
Topics include:
Early experiences shape brain architecture
Early experiences can help or hinder brain development
Loving relationships and attachment
Stress and self regulation
How adults can provide a healthy environment for children
Our presenter will be Jim Sole. He has been a police officer for 27 years. He is a qualified Youth Aid Officer. He has specialised in family violence since 2000. He was part of the design team for the Pacific Prevention of Domestic Violence Programme and spent 5 years working as a mentor in Kiribati. He received a QSM for his services overseas and within the family violence sector within Canterbury and nationally. Following the Christchurch Earthquakes he was the chair of the Canterbury Prevention of Family Violence Collaborative and on the steering group for what is now Canterbury Family Violence Collaboration. He is the supervisor of the Family Safety Team for 7 years – a multi agency team that manages high to extreme risk family violence cases in Canterbury. His focus is on the impact of family violence on children.
If you are interested in attending this event, the cost is $10 per person, which includes supper. Please email stmarks.communityconversations@gmail.com for booking and payment details.