News
Musings from Sunday
At St Mark's we used playdough to prayerfully reflect about the Spirit descending on us on this Pentecost Sunday.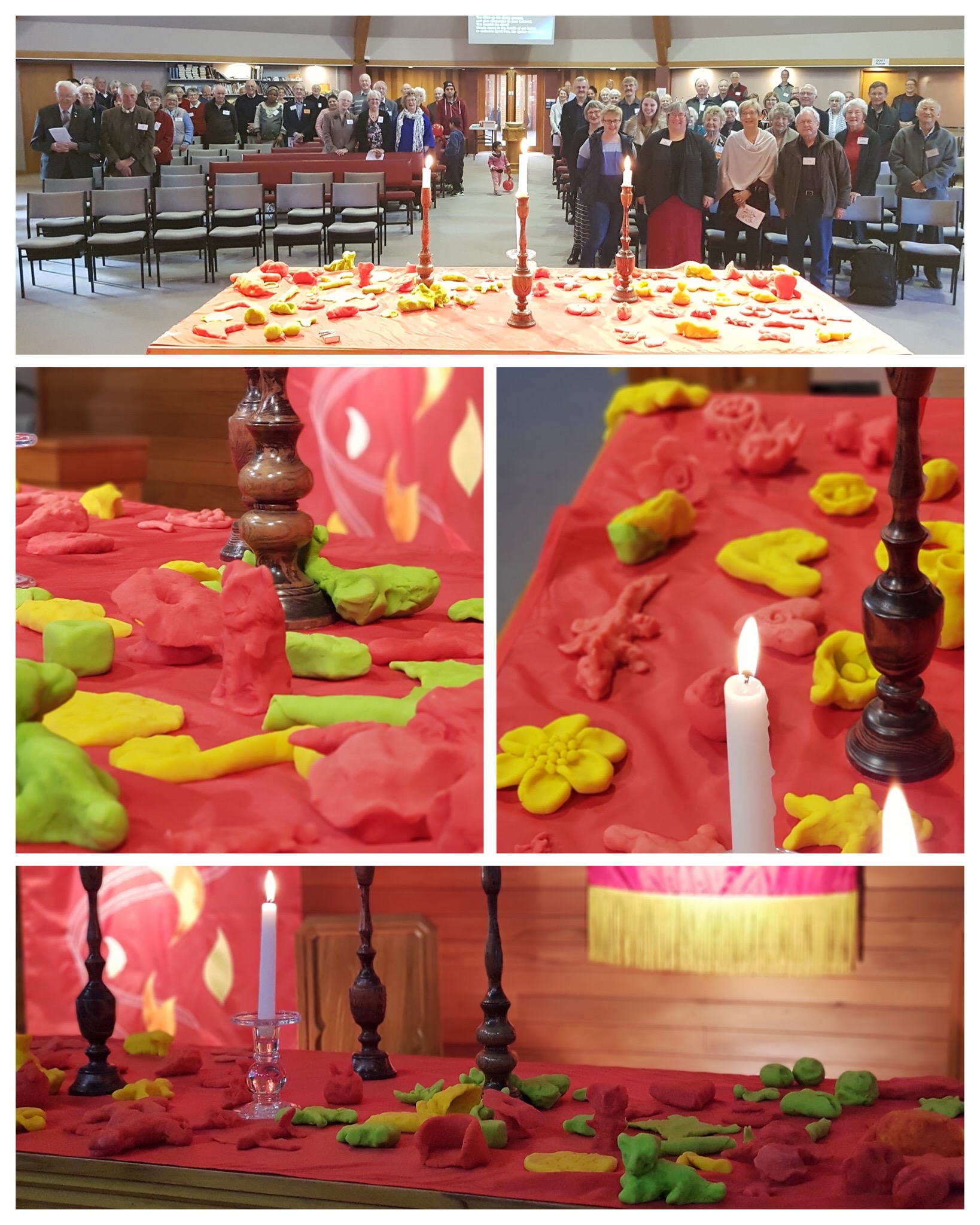 Welcome Spirit Wind,
Animator, Sustainer,
You birthed the cosmos, ever expanding,
every system in perpetual motion.
You circulate over earth,
breeze across the surface of eternal waters,
teasing waves to roll;
You twist up the dusty ground,
and give dimension to your beloved,
You inspirit the dead!
Create space in the hearth of our being,
to welcome Spirit Fire, the ignitor of true life!
Take up our hearts, surrendered,
kindling before your Breath—
spark to flicker
flicker to flame,
stoke the hearts of your people!
Like floating embers off the tongue,
one anthem will rise
and, emblazoned by faith,
will catch on like wildfire!
A Pentecost benediction by Kelly Ann Hall.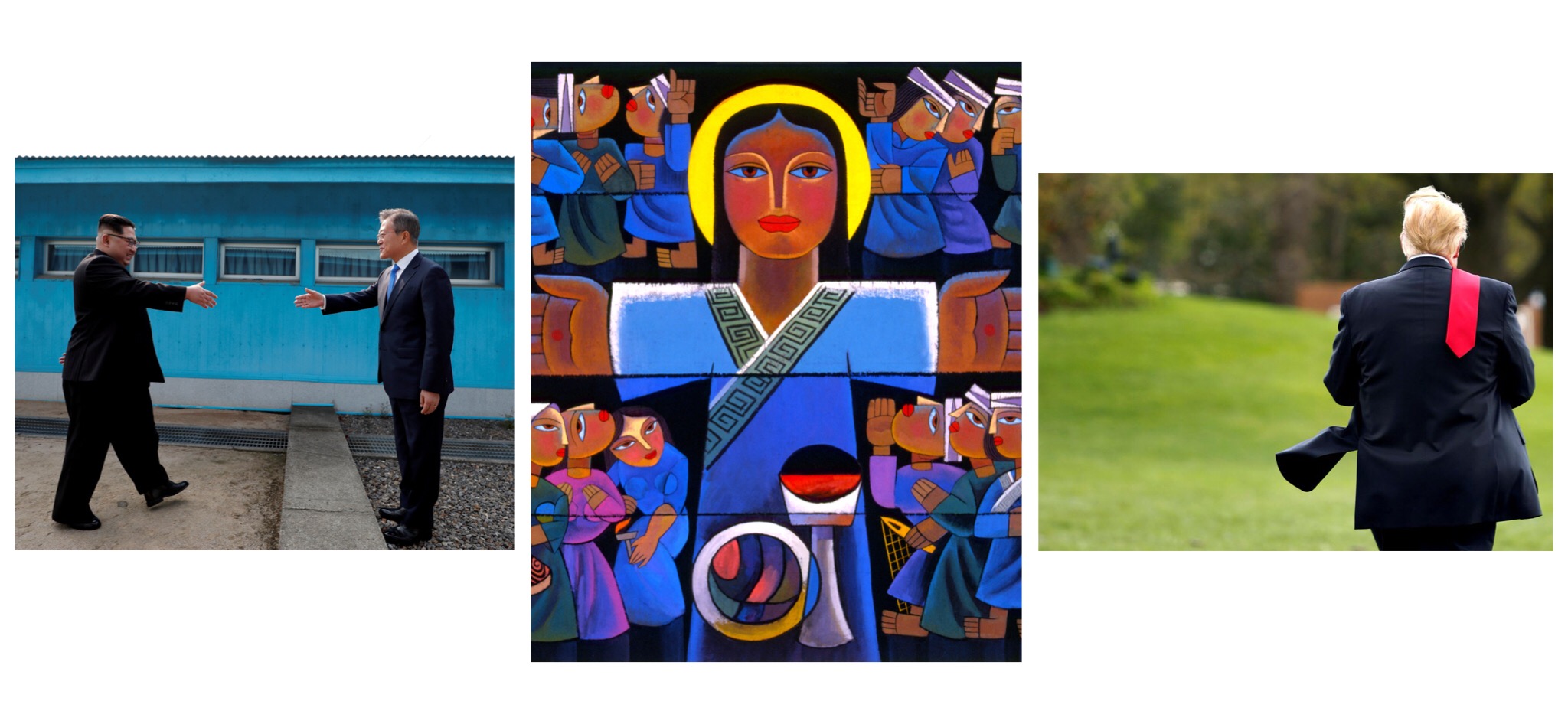 Photo acknowledgment:
Left – NorthKorea SouthKorea/Summit, Reuters . Center – The Risen Lord, He Qi
Right – U.S. President Donald Trump walks on South Lawn of the White House, Reuters
Pax Trump
Who should receive the Nobel Peace Prize, they say
Mr. Moon says
What we need is only peace
To praise and give recognition
Defines who we are
Who do we praise and give recognition in the church?
The Ascended Lord of the cosmos and it's ultimate end
Speaks and acts
Fills everything with his Presence
In and through the body of Christ for the world peace
What we need is only the peace of Christ
the church prays
Thanks be to God for the body of Christ broken for the world
Pax Christi. Amen.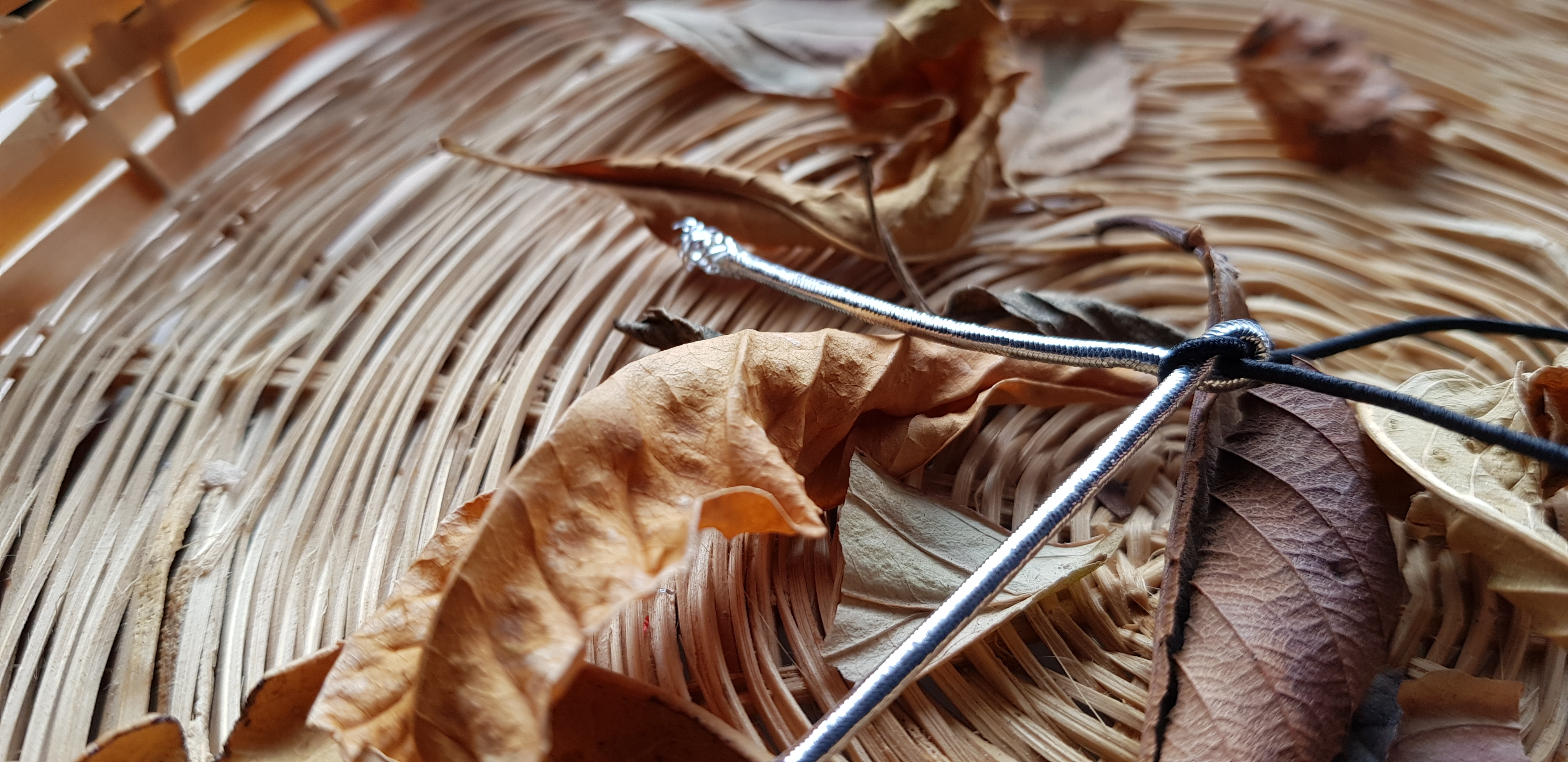 You didn't choose me, remember; I chose you, says Jesus to the church.
To tie a (reef) knot
Two strings are brought together
Twisted into one
Looped along together
Then pulled
Two strings knotted and bound together
By Christ
Tied into a knot into the family of God
No, not by my choice
Yes, by the choice of God
The family of God is brought together
Twisted, looped and pulled
Knotted and bound together
By Christ
Jesus says "once there was a father who had two sons…"
We say
"This son of yours"
"This daughter of yours" doesn't belong
God says
"This brother of yours"
"This sister of yours" belong
For God in Christ
By the hard and costly love of the cross
Tied us into a knot
The family of God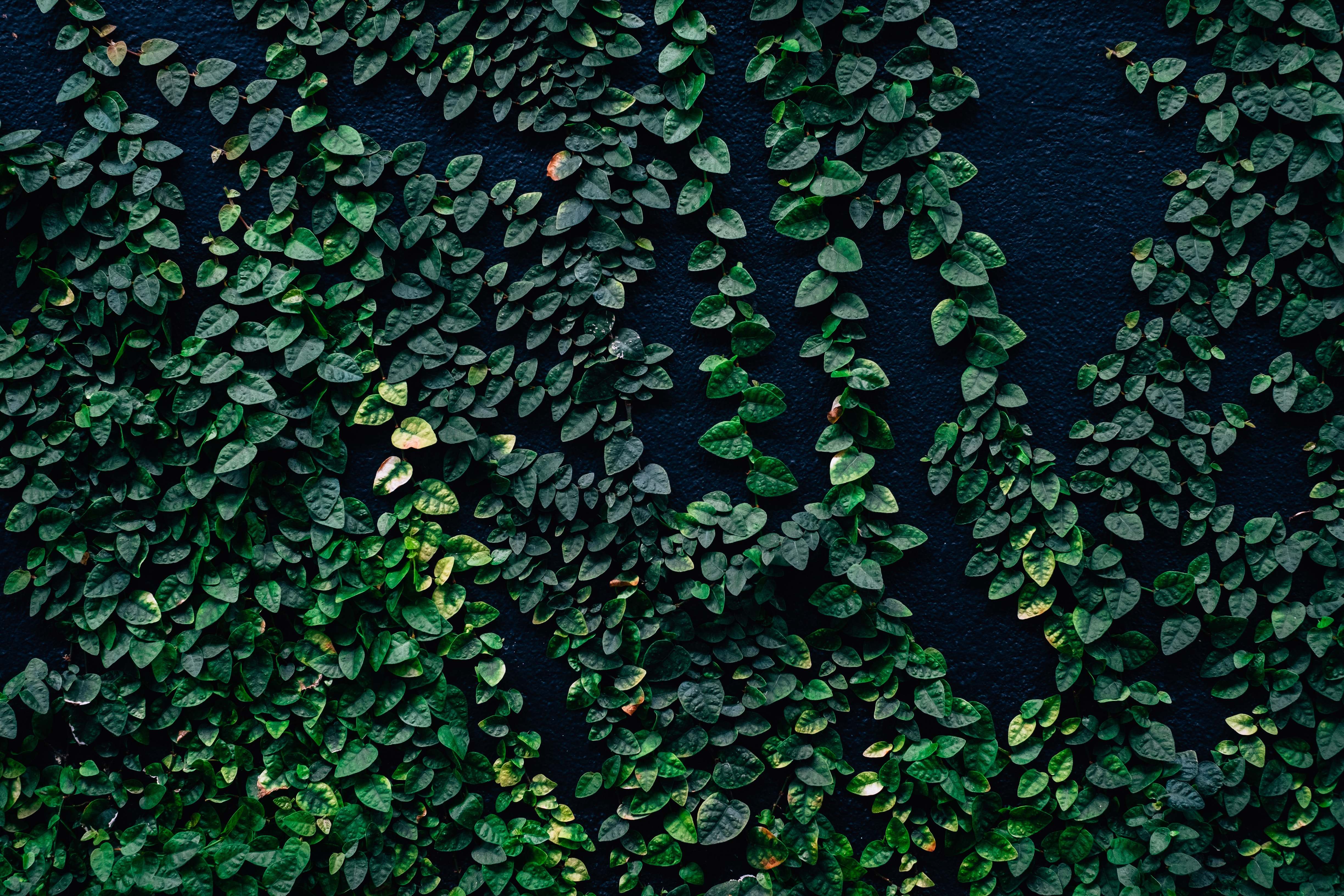 I AM the vine and you are branches
Says Jesus to the church
Vine full of life
Wild, thick, dense and lush
Branches reaching in, climbing up and down
The cracks, the spaces in-between, no space unfilled
Take over the fence dividing me and my neighbour
Alas! The fence, the wall, the barrier is breaking down!
Yes, Jesus is the Vine and we are the branches
Breaking down the fence of division
I AM the vine and you are branches
Says Jesus to the church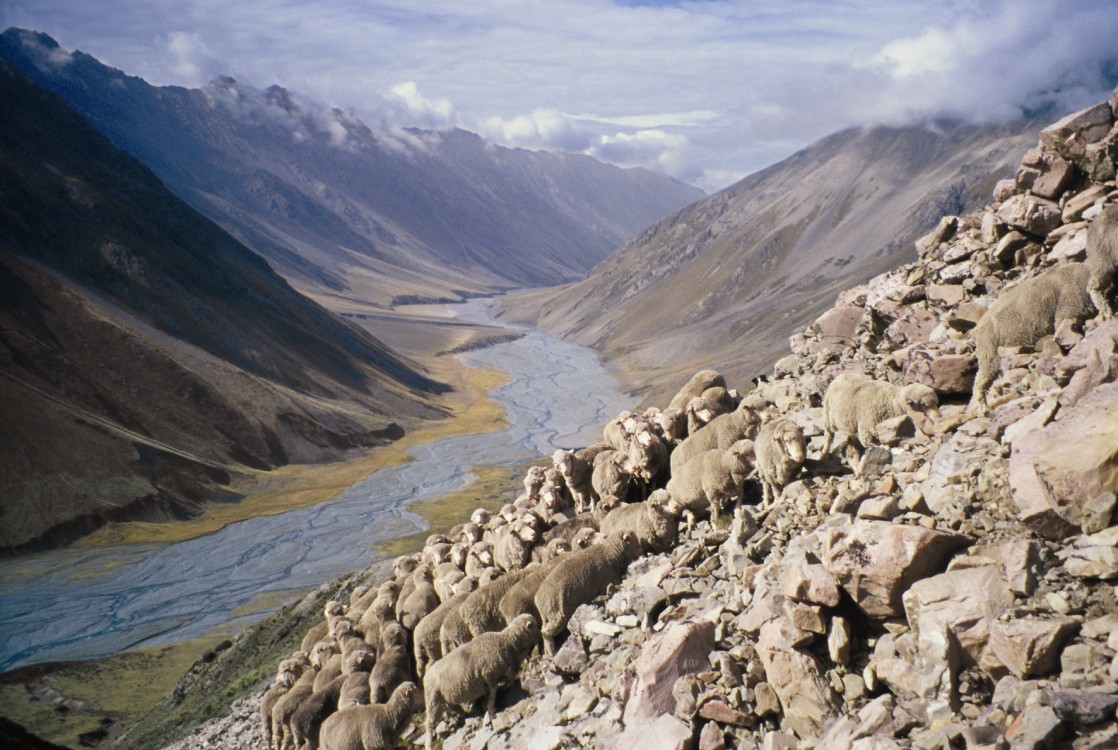 (Acknowledgement – photo named "New Zealand Merino Sheep Flock Icebreaker" from website Southern Ascent)
"I AM the good shepherd. The good shepherd lays down his life for the sheep," Jesus says (John 10:11-18). What would it be like to imagine this as a journey – dynamic and risky like all good adventure "farther along and by and by" (song Farther Along by Josh Garrels)? How would we reimagine our faith journey of following the good shepherd? Perhaps Jesus the good shepherd takes us the flock through the dangerous terrains of life. If the dream of heaven is one flock, one shepherd, perhaps the good shepherd takes us through the dangerous terrains to bring to him the other sheep that do not belong to our fold yet.
Good shepherd lays downs his life for the sheep.
Then what about good sheep?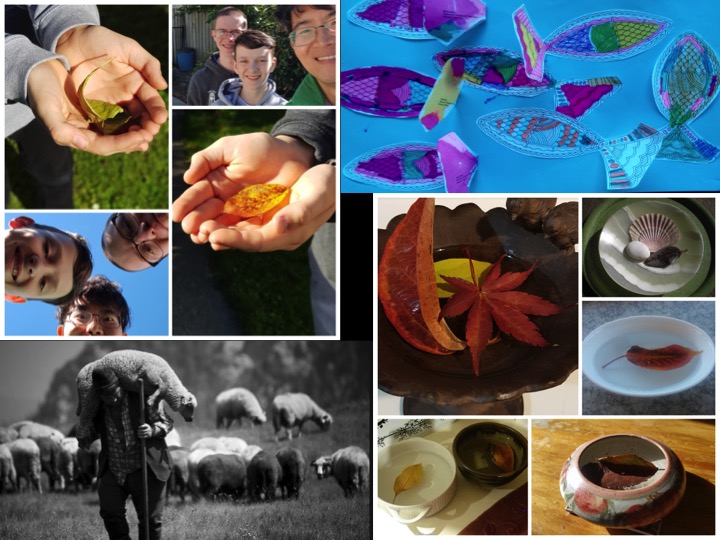 As Fragile as an Autumn Leaf
Entrusting ourselves to God's love in Christ and by the Holy Spirit entrusting ourselves to each other. I'm fragile like an autumn leaf. You are fragile like an autumn leaf. Let us be entrusted to God and be saturated by Christ, our love. In Christ, take me as I am. Pray for me as I pray for you remembering we are autumn leaves weathered but afloat in water.
Presbyterian Church of Aotearoa New Zealand
You Tube video – Presbyterians Beneath the Southern Cross.
Rev. David Sang-Joon Kim – Induction and Ordination
This month we are welcoming our new minister Rev. David Sang-Joon Kim. It was a special service here on Thursday 5 April for his Ordination and Induction.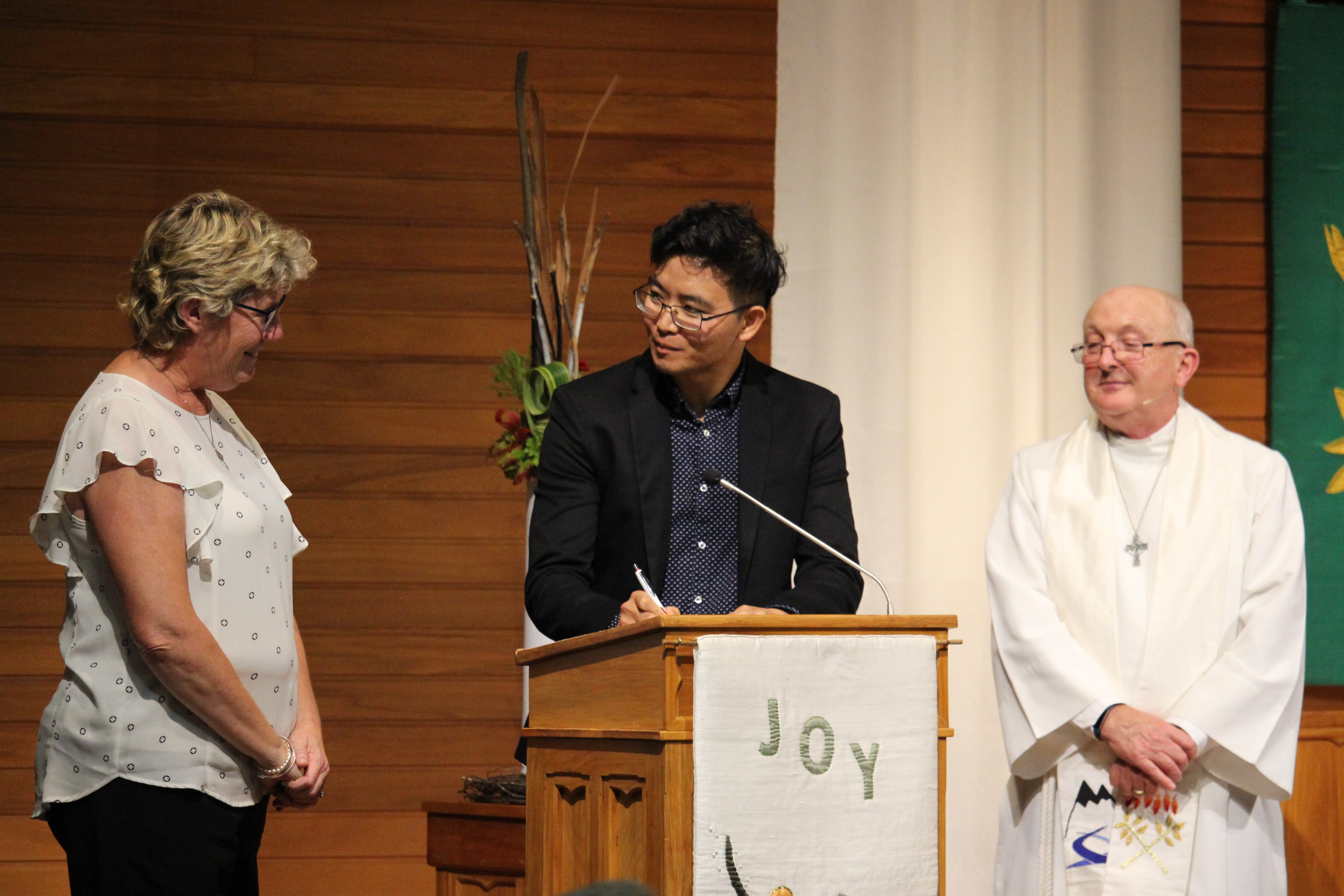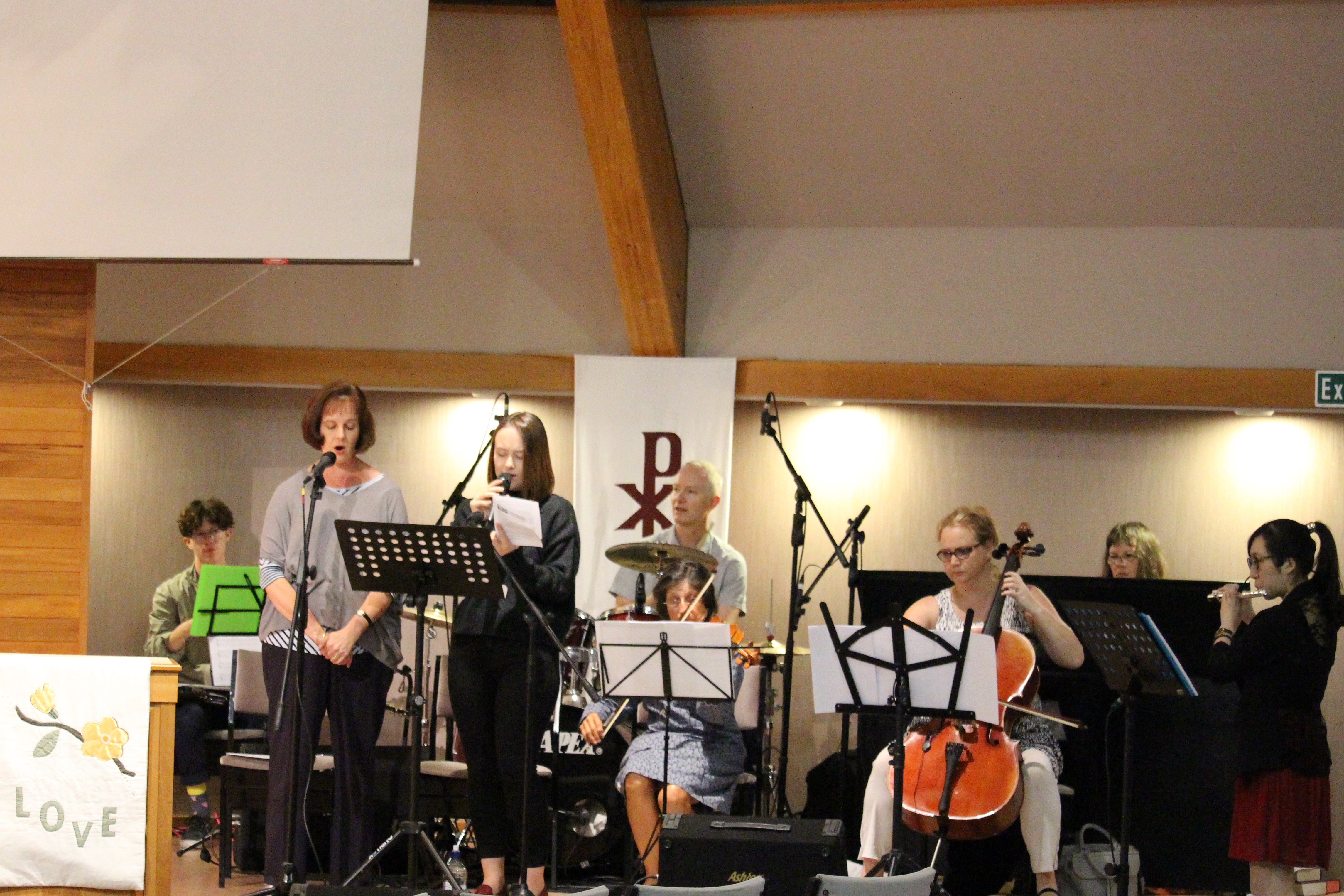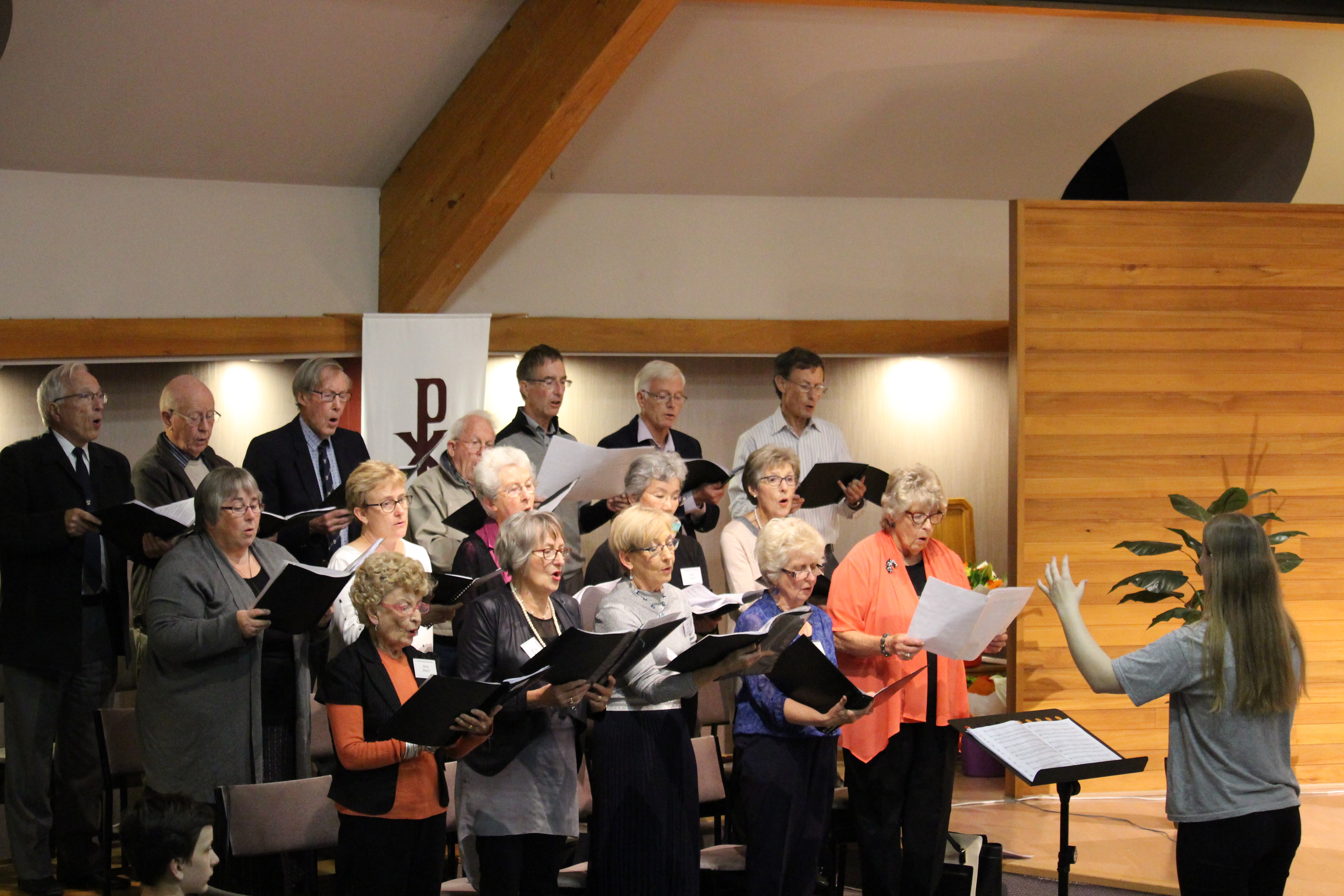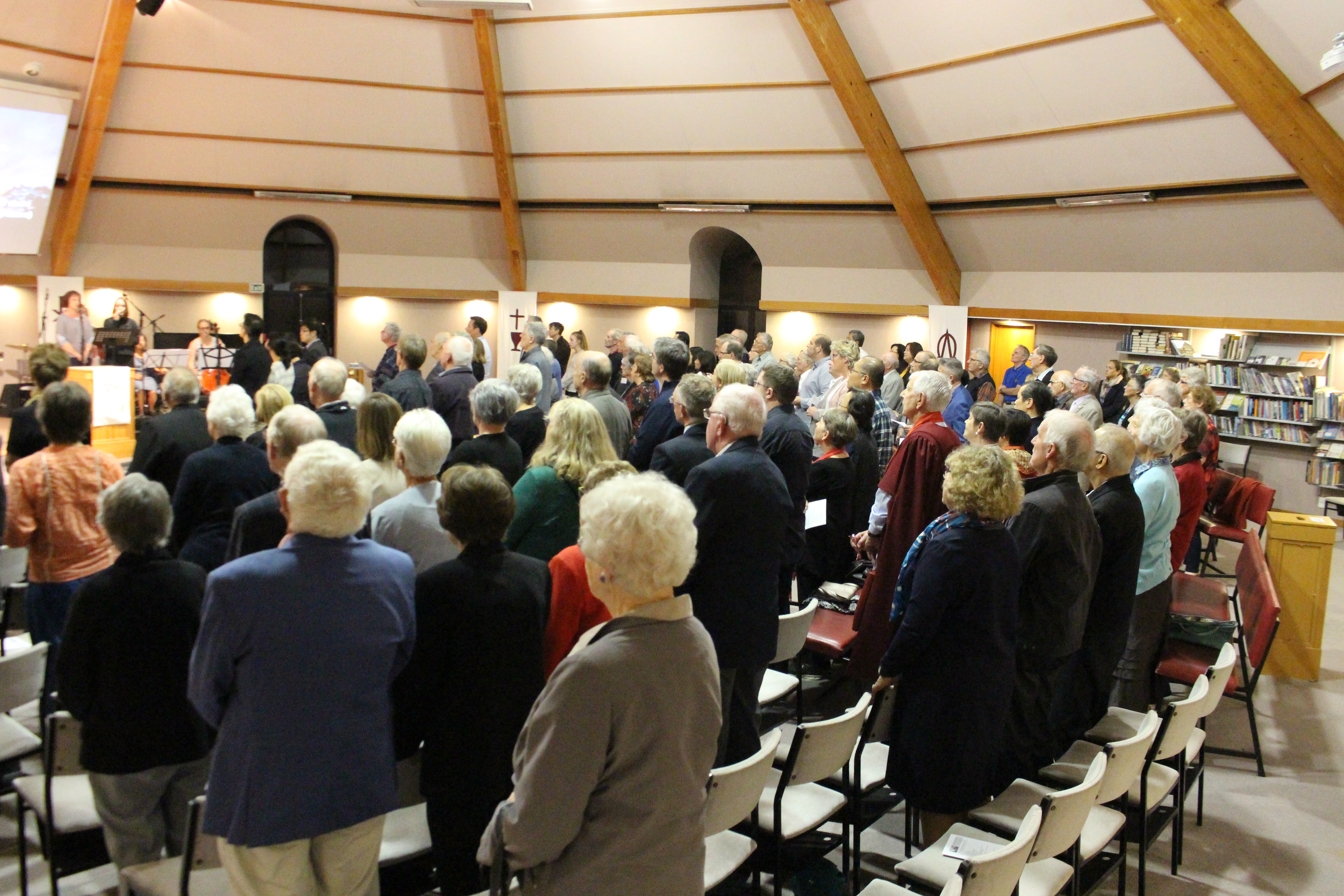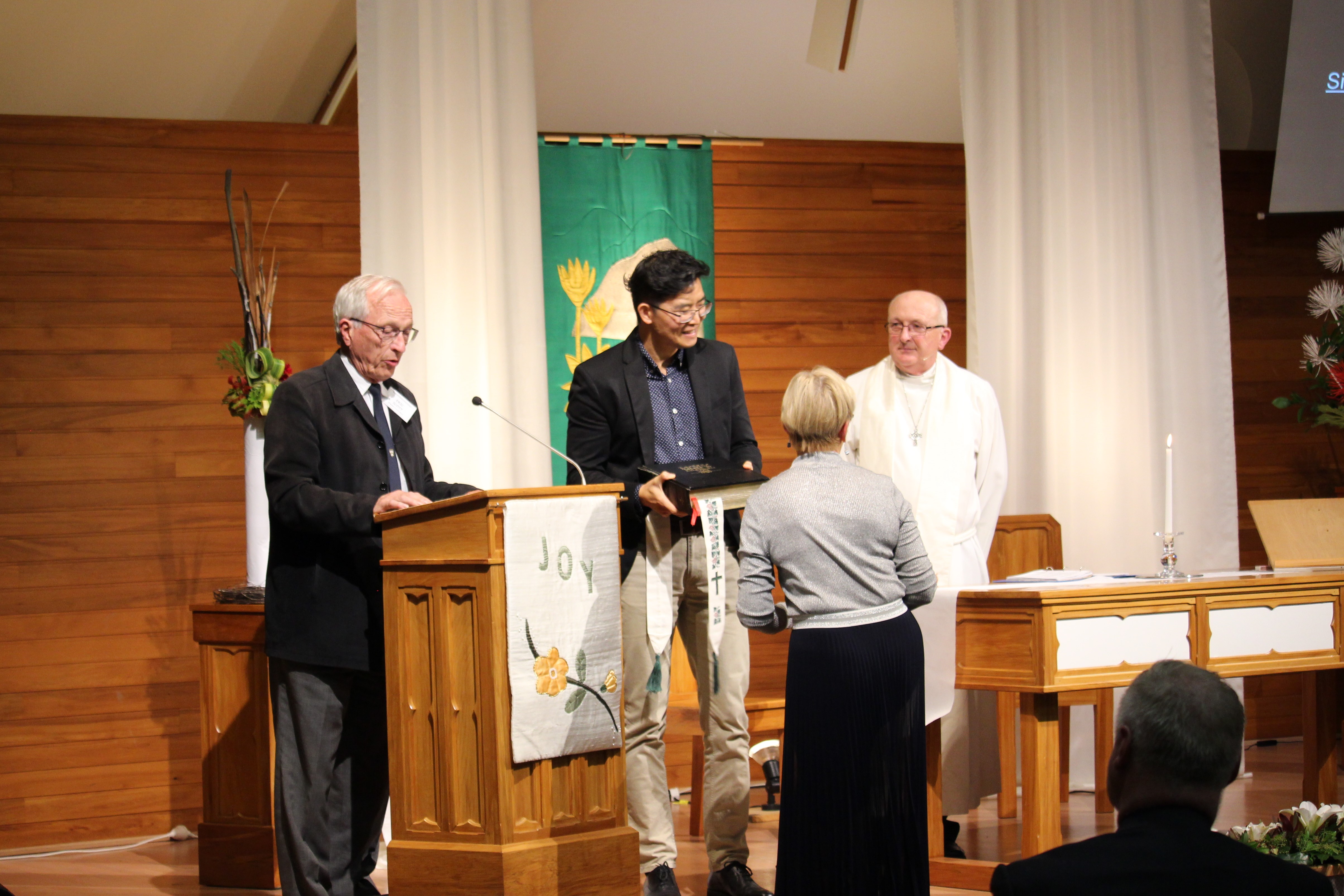 Daily Encourager
The media have a huge impact on people's lives. The Daily Encourager website – 'News that builds people up' – creates a hopeful environment that brings light and life to a world that lives large chunks of its time in despair and anxiety.
Click on the link below to find New Zealand stories that demonstrate courage and initiative, care and compassion, generosity, and love and grace.
New Role – Community Ministry Leader
St Mark's Parish wants to appoint a person to a new role in the parish, that of Community Ministry Leader. If you would like a full description of this new part time position please contact the St Mark's Office on 358 5443 or email office@stmarks.net.nz.