Facilities
St Mark's Church and Community Centre is a modern building with variously sized meeting rooms available.  The room sizes and facilities are described below. There is on site car parking for 30 vehicles.
For viewing, availability and costs, please complete the initial booking inquiry form or contact Jacqui in the Church office, phone 358 5443 or email jacqui@stmarks.net.nz
Please note that no alcohol is to be served without prior permission from the office and, in consideration for neighbouring residents, the premises are to be vacated by 10.30 pm.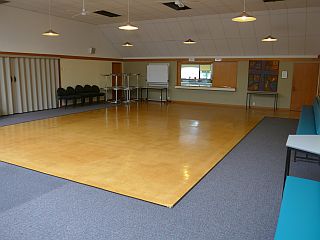 Main Lounge
This 10 m x 14 m room has a large cork tile floor with carpet surround, holds up to 80 people with a large servery to the kitchen. Chairs provided.
Whiteboard fixed to wall.
Overhead projector/screen and trestles also available for hire.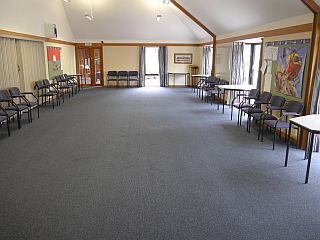 North Lounge
A sunny carpeted 7 m x 15 m area with small servery to kitchen. Whiteboard fixed to wall.
Can accommodate 40 – 50 people. Chairs provided.
Overhead projector/screen and trestles also available for hire.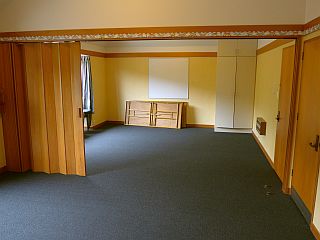 Meeting Rooms
There are three small rooms [approx. 5 m x 4 m each] each of which can accommodate 12 – 15 people.
Rooms 1 & 2 are adjacent and are divided by a concertina folding door which can be opened to make one larger room.
Room 3 (The Quiet Room) is accessed from the church auditorium.
Whiteboards are fixed to walls. Table and chairs provided.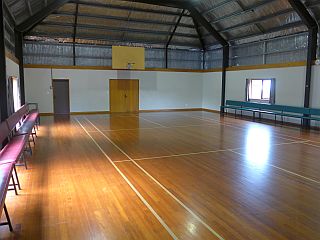 Sports Hall
The sports hall has a high roof, polished floors with a badminton court marked on the floor and basketball hoops.
Small servery to kitchen.
Area is 17 m x 11 m.
Fixed form seating around perimeter for approximately 35 people.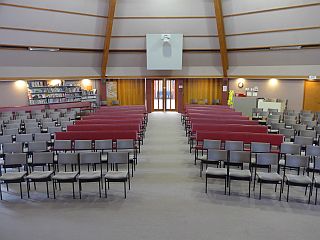 Church Auditorium
This space has seating for approximately 220 people and is suitable for weddings, concerts and large meetings.
A sound system and overhead projector and screen are available.
There is a large carpeted foyer area for meeting and greeting before entering the auditorium.
Folding doors can be opened to enlarge the church area to incorporate the foyer.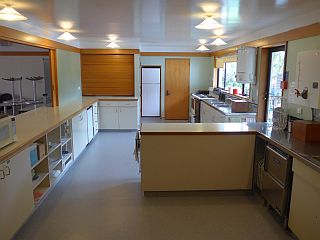 Kitchen
The kitchen is equipped with two electric ranges, a microwave oven, two Zip water heaters, a cup/glass sterilizer, two sinks, refrigerator/freezer, cups, saucers, mugs and glasses. There are serveries to the North Lounge, Main Lounge and Sports Hall.