Where do you go to withdraw?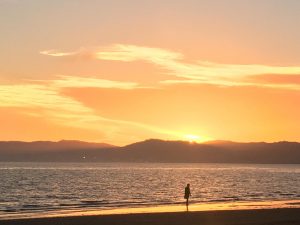 Welcome to a gathering of St. Mark's Church (Sunday worship under one roof) Sunday, 2nd August, 2020.
Service led by Sandra Wright-Taylor.
Something to Ponder  Where do you go to withdraw?
GATHERING AS PART OF THE FAMILY OF GOD
Welcome
Lighting the Christ Candle
Call to Worship
Why have you come to this place?
We have come to find Jesus.
Why have you come today?
We are tired in body and spirit.
Jesus bids you sit and be at ease.
We are hungry with nothing to eat.
Come and eat your fill.
But there are only five barley loaves and two fish.
There is plenty for all.
Will we find wholeness here?
Jesus gathers the fragments of our lives,
that nothing may be lost.
Singing            'Come to the Waters You Who Are Thirsty'
Prayers on the Way and Lord's Prayer
Notices and Celebrations
Delight and Awe
Singing            'Be Still for the Presence of the Lord'
LISTENING TO GOD'S WORD
Prayer of Illumination
Readings         Isaiah 55: 1-13 and Matthew 14: 13-21 (Read by Catherine Butts)
Reflection       Quiet Places
A Time of Quiet
RESPONDING TO GOD
Singing            'Dear Lord and Father of Us All'
Offering and Dedication
Prayers on the Way (Prayers for ourselves and others) Prayers led by Mac Welsh
Singing            'Every Day I Will Offer You'
Blessing and Benediction
Singing            'Like a Rock'