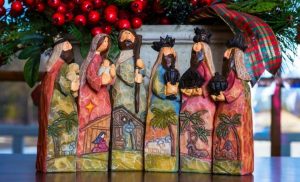 There's a breach in my walls but I can reach to you
Strengthen my feet for the high places
Toughen my mind
Against all my fears
I'm coming after you
Welcome to the gathering of St. Mark's Church (Sunday worship under one roof) Sunday, December 6th 2020.
Isaiah 64:1-10 (abridged)
Comfort, O comfort my people, says your God.
Speak tenderly to Jerusalem, and cry to her
that she has served her term, that her penalty is paid,
that she has received from the Lord's hand double for all her sins.
A voice cries out:
"In the wilderness prepare the way of the Lord,
make straight in the desert a highway for our God.
Every valley shall be lifted up, and every mountain and hill be made low;
the uneven ground shall become level, and the rough places a plain.
Then the glory of the Lord shall be revealed, and all people shall see it together,
for the mouth of the Lord has spoken."
Get you up to a high mountain, O Zion, herald of good tidings;
lift up your voice with strength, O Jerusalem, herald of good tidings,
lift it up, do not fear; say to the cities of Judah,
"Here is your God!"
See, the Lord God comes
This Christmas, who are you receiving? Who would you have as your company this Christmas? Whose arrival are you preparing your home for? As you make the bed, as you plan ahead for the Christmas Day meal, as you wrap up the gifts, do you feel the anticipation growing for their arrival?
In this Advent season leading up to Christmas, we wait the arrival of our Hope, Love, Joy and Peace, Jesus Christ, our Emmanuel, God with us. With hope we await the arrival of Christ our God. With Joy that attends his arrival, we prepare to receive Christ in our faithful love.
With the festivity around, let us rejoice together. Also, let us be mindful of areas in our lives, in our community, where it feels like a desert, where each valley seems like a prison, where there are mountains that stand in the way of connecting, where the ground of our being gives no fruit. Let us prepare the way for the arrival of Christ our Hope, Love, Joy and Peace, let us lift those bowed low, let us bring low powers and might that creates a barrier between us, let us quench the thirst for a longing of company, longing of the joy of connection. This is our preparation for our faithful waiting for our God who surely comes.
Will you take some time to ponder on the God of Jesus Christ who surely is coming and our preparation to receive him as our company? There will be a song playing. It is on the lively side. I trust that the song will add to your pondering and you will appreciate the joy the song portrays of the day of God's arrival.
Music – Coming after you by Aaron Strumpel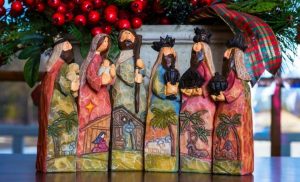 There's a breach in my walls but I can reach to you
Strengthen my feet for the high places
Toughen my mind
Against all my fears
I'm coming after you
Lighting Advent Candle – Hope and Faith
Reader One Our lists are long, even in this strange mess where we live these days. And we want to do it right, we want to be safe, but we want to be able to enjoy the season. We've got work to do to put right what has gone wrong, to heal what is broken, to mend the relationships, and to prepare for the company that will arrive to join us.
Reader Two The prophet Isaiah reminded us that there is work to be done. "Prepare the way of the Lord, make straight in the desert a highway for our God." When God comes in, then healing is to be found, but we need to make the way; we need to open the door into our lives.
Reader One So, we light these candles as a sign of love that is faithful that the God we worship is not far from us and that we can clear the way for God to come and dwell with us. We light these candles in faithful love that God our company is coming.
Reader Two O Come, O Come Emmanuel.
Sourced from https://www.umcdiscipleship.org/articles/advent-candle-lighting-liturgy-2020
Song 'Come Now Lord Jesus'
Welcome and Notices
Praying the Psalm
Let us pray a psalm together. Before we do, let me give a brief explanation. This psalm arises from circumstances where they find themselves in need of God's deliverance. The people have been unfaithful to God who loves faithfully, whose joy is in the company of God's people. So they recall. They remember when God restored them in forgiveness and love. Their longing is for the joy of salvation to be in God's embrace again, for God to dwell with them. God's word of promise to the people is peace. God's call to his people in waiting is to prepare the ground to produce fruits of love and faithfulness, righteousness and peace, for this is what happens when God comes in the midst.
People of God, how are you? How is our church? How is our neighbourhood? Are there places, spaces, relationships where we have once experienced joy but now in need of restoration? Can we once again anticipate joy to spring forth from the deserted ground? Will we pray to God to restore us to the joy when God arrives? Let us not forget, let us remember, let us anticipate with joy, when God and his people embrace and kiss, the very ground of God's harvest, gives fruit to love and faithfulness, righteousness and peace. As we prepare for the coming of God, let us pray the psalm together with great expectation of Advent, of God's arrival, of God's company, our salvation, our joy.
Please respond with the words in bold.
Psalm 85 (abridged)
Lord, you were favourable to your land; you restored the fortunes of Jacob.
You forgave the iniquity of your people; you pardoned all their sin.
Will you not revive us again, that your people may rejoice in you?
Show us your unfailing love, Lord, and grant us your salvation.
Let me hear what God the Lord will speak, for he will speak peace to his people,
to his faithful, to those who turn to him in their hearts.
Surely his salvation is at hand for those who fear him,
that his glory may dwell in our land.
Steadfast love and faithfulness will meet; righteousness and peace will kiss each other.
Faithfulness will spring up from the ground,
and righteousness will look down from the sky.
The Lord will give what is good, and our land will yield its increase.
Righteousness will go before him, and will make a path for his steps.
Prayer for others
We respond by singing the Lord's Prayer together [offering to be brought up during the chorus "Amen"]
Offering and Dedication Prayer
Song               'Calypso Carol (The Virgin Mary Had a Baby Boy)'
A Nativity – Saving Christmas
Scripture: Matthew 1:18-25
Song: 'O Come, O Come Emmanuel'
Song: 'Carol Our Christmas'
Song: 'O Little Town Of Bethlehem'
Song: 'Once In Royal David's City'
Song of Sending 'Like a Rock'
Benediction The Grace of our Lord Jesus Christ, the Love of God, the Communion of the Holy Spirit be with us all now and forever. Amen.