No one has ever seen God; if we love one another, God lives in us, and his love is perfected in us. We love because he first loved us.
Welcome to the gathering of St. Mark's Church (Sunday worship under one roof) Sunday, May 2nd, 2021.
1 John 4:7-13, 19 (New Revised Standard Version)
7Beloved, let us love one another, because love is from God; everyone who loves is born of God and knows God. 8Whoever does not love does not know God, for God is love. 9God's love was revealed among us in this way: God sent his only Son into the world so that we might live through him. 10In this is love, not that we loved God but that he loved us and sent his Son to be the atoning sacrifice for our sins. 11Beloved, since God loved us so much, we also ought to love one another. 12No one has ever seen God; if we love one another, God lives in us, and his love is perfected in us. 13By this we know that we abide in him and he in us, because he has given us of his Spirit. 19We love because he first loved us.
Today, gathered by God to worship, let us consider together what love is. What does it mean to love and to be loved? Why does our worship of God of Jesus Christ always leads us to a life of love? Let us wrestle with this truth that the depth of our knowledge of God is measured in how we love. Let us wrestle with our human condition how we are deceived and we deceive ourselves into believing love can be bought, love can be earned. Let us ponder why love became human, and how true love in this world is often sacrificial. Let us marvel at the truth that our love is birthed from God, like a mother giving birth to her child, that the origin of love is like a gift of birth. More importantly today may you know that you are known by God and God knows us only in one way, the way of Jesus, love who becomes human, God who loves us to death.
I invite you now to a time of prayerful reflection.
Prayerful Reflection: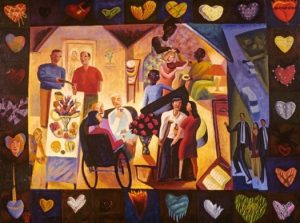 The Party by James B. Janknegt
No one has ever seen God; if we love one another, God lives in us, and his love is perfected in us. We love because he first loved us.
Reflection song: The Greatest Commandment by The Porter's Gate
Song: 'As We Worship [God is Constant Pursuing Love]'   to the tune Hyfrydol
Welcome and Notices:
Praying the Psalm:
We are going to pray a psalm together. We will pray the concluding section of Psalm 22 together. Before we do, I will provide some background.
The concluding section of psalm 22 is a crescendo of praise. The psalm envisions a great choir made of all sorts of people. The vision is one where all the peoples of every generation coming into harmonious relationship with God. God-fearers, God-seekers, people in the most outer part of the world whether geographically or socially, every nation, and even babies unborn joining in the praise. This coming together of all peoples is the trajectory of God's reign, of God's will on earth. The God who shall gather all together is praiseworthy!
In praising this God who gathers people in worship, there is an invitation to live out this way of life. In praising God in worship, in turn we become for one another how God is to us. We love as we are loved by God. This God satisfies the hungry and the down trodden. This God is no bystander to our suffering rather God is by our side.
People of God, what does it mean to worship God? What does it mean that we praise him? Let us worship God, let us praise God, for our words of love shall put on flesh, love to be seen and touched. Let our praise and worship of God of love be known in how we love so that those we meet shall join us in the praise!
Let us pray the psalm together in praise. Please respond with the words in bold.
Let us pray the psalm together in wonder and hope!
Psalm 22:23-25 (The Message Translation)
Here's the story I'll tell my friends when they come to worship,
and punctuate it with Hallelujahs:
   you God-worshipers, shout Hallelujah,    
give glory, you sons of Jacob;
adore him, you daughters of Israel.
When you were being kicked around,
he was never a bystander;
he has never let you down.
He has never wandered off to do his own thing;
he has been right there, listening.
Here in this great gathering for worship
I have discovered this praise-life.
And I'll do what I promised right here.
Down-and-outers sit at God's table
and eat their fill.
From the ends of the earth
people are coming to their senses,
are running back to God.
Long-lost families
are worshipping before him.
God has taken charge;
from now on he has the last word.
All the power-mongers are before him
   — worshiping!
All the poor and powerless, too
— worshiping!
Along with those who never got it together
— worshiping!
Our children and their children
will get in on this
As the word is passed along
from parent to child.
Babies not yet conceived
will hear the good news—
  that God does what he says
Prayer for Others:
Song: Lord's Prayer
[The offering will be brought up during the chorus "Amen"]
Offering Prayer:
Song: 'From The Ends Of The Earth We Will Sing'
Scripture Reading:
John 15:1-8
"I am the true vine, and my Father is the vinegrower. 2He removes every branch in me that bears no fruit. Every branch that bears fruit he prunes to make it bear more fruit. 3You have already been cleansed by the word that I have spoken to you. 4Abide in me as I abide in you. Just as the branch cannot bear fruit by itself unless it abides in the vine, neither can you unless you abide in me. 5I am the vine, you are the branches. Those who abide in me and I in them bear much fruit, because apart from me you can do nothing. 6Whoever does not abide in me is thrown away like a branch and withers; such branches are gathered, thrown into the fire, and burned. 7If you abide in me, and my words abide in you, ask for whatever you wish, and it will be done for you. 8My Father is glorified by this, that you bear much fruit and become my disciples.
Acts 8:26-40
26Then an angel of the Lord said to Philip, "Get up and go toward the south to the road that goes down from Jerusalem to Gaza." (This is a wilderness road.) 27So he got up and went. Now there was an Ethiopian eunuch, a court official of the Candace, queen of the Ethiopians, in charge of her entire treasury. He had come to Jerusalem to worship 28and was returning home; seated in his chariot, he was reading the prophet Isaiah. 29Then the Spirit said to Philip, "Go over to this chariot and join it." 30So Philip ran up to it and heard him reading the prophet Isaiah. He asked, "Do you understand what you are reading?" 31He replied, "How can I, unless someone guides me?" And he invited Philip to get in and sit beside him. 32Now the passage of the scripture that he was reading was this: "Like a sheep he was led to the slaughter, and like a lamb silent before its shearer, so he does not open his mouth. 33In his humiliation justice was denied him. Who can describe his generation? For his life is taken away from the earth." 34The eunuch asked Philip, "About whom, may I ask you, does the prophet say this, about himself or about someone else?" 35Then Philip began to speak, and starting with this scripture, he proclaimed to him the good news about Jesus. 36As they were going along the road, they came to some water; and the eunuch said, "Look, here is water! What is to prevent me from being baptized?" 38He commanded the chariot to stop, and both of them, Philip and the eunuch, went down into the water, and Philip baptized him. 39When they came up out of the water, the Spirit of the Lord snatched Philip away; the eunuch saw him no more, and went on his way rejoicing. 40But Philip found himself at Azotus, and as he was passing through the region, he proclaimed the good news to all the towns until he came to Caesarea.
Sermon Reflection:
Reflection song: He is among us by Porter's Gate
I enjoy going to beautiful gardens like the botanic gardens. The gardeners there do a marvellous job all throughout the year. We often go there to enjoy the colours, the scents, the scenery, the birds and insects that it welcomes and attracts. The garden at my home, the manse, is wonderful too. We are constantly surprised by the flowers that bloom that we didn't know were planted, the faithfulness with which some trees give fruit.
I know some of you may be in disbelief, but though I enjoy the garden that is pleasing to my eyes and ears. I don't enjoy gardening particularly. Look, I just don't like the prospect of getting legionnaire's disease, gardener's disease. I know you say there are ways to prevent it and you will quote me some statistics how it's relatively small risk. Alright, I confess, I don't like getting my hands dirty. Look my hands are sensitive and they stain easily. I don't like "green fingers!"
Some things just have to be done. If not for yourself than for someone else. I've been labouring away at mowing the lawn, keeping the vines at bay and gosh those weeds…did I tell you there are poisonous weeds out there! Those deceptively delicious looking black nightshades! So, I'm doing it for Naomi. But I am beginning to do it for Dugald and Janet, whose fruit I am enjoying and I'm also doing it for that minister and their family, who might reside here after me.
Strangely enough, the more I have been gardening, I've come to notice that I am starting to enjoy it little by little. The more I get my hands dirty, the more I get up close and personal with the plants, flowers and trees, I begin to take interest in them and get to know them a little better. I start to recognise patterns. I start to recognise the seasons. I mean not only the seasons when certain flowers and plants thrive, but I tell the season because feijoas are ripe, because winter roses bloom, because daffodils have come up, because I have to mow the lawn every week!
This year we had gardening reason to rejoice! Firstly, over the three years, we have been enjoying our peaches, black boy peaches, by the way, there must be a better name than this! But the fruit have been so small. By chance, I saw a tv show where they showed an orchardist knocking off buds that have come up. He was knocking off the ones on the top and leaving the ones on the bottom. Apparently this prevents and helps with three interrelated things – prevents overcrowding and bruising and therefore, good crop.
This summer our peaches have been fewer but beautiful. There weren't many but enough to share with our neighbour who was delighted and praised me for being such a good gardener! She said they look like first grade crop. I did tell her the truth that I have no green fingers. But you know they were big and juicy – especially those we got to before the birds. We did the same for our feijoas. Lisa heard that watering the plant will do them good rather than relying on the rain only. So Naomi and Lisa watered it many late afternoons. They have grown bigger than previous years but not as big as we had hoped. Our neighbour has offered to help us with pruning; we think when we prune some dead branches both our trees will flourish in being what they are – a peach tree and feijoa tree.
What do you hope for in your gardening? What is your experience of gardening? What brings you joy about it? The more I think of it, the joy of gardening for me comes from seeing each plant and fruit tree being what it is, to see them flourish in being what they are. And interestingly enough, the more they grow and mature and get closer to being the best version of themselves, their fruit is enjoyed all the more by myself and those I give them to. As I am not seeking to profit from them, it isn't so much about maximising the return from my investment, rather it's purely about the joy of doing what I can for the tree to grow, mature and bear fruit. This joy is made complete when the fruit is shared to the delight of those salivating mouths.
Jesus speaks of himself as the vine and we are his branches. And the heavenly Father is the orchardist or if you like, the gardener. The gardener rejoices over the vine. The gardener rejoices over the vine for being what a vine is. The gardener takes care over the vine, noticing the season it is in, the season it needs to be in for it to flourish. In other words, the gardener is attentive to the vine and understands it because he cares. Friends, God is attentive to you and cares for you. Also, the gardener doesn't shy away from getting his hands dirty and gets up close and personal for he loves to see the vine flourish to be what it is. Friends, this is how God loves you. The joy of the gardener over the vine is made complete in harvesting the fruit, beautiful and sumptuous, to be shared with others. Friends, God rejoices when we bear fruit to be shared and to be enjoyed with others.
I would like to make some comment on this image of the vine that illustrates our relationship to Jesus. This image is organic and holistic. In other words, there is no point at which we can consider the vine and the branches separately. As soon as we start talking about the vine we cannot but talk about the branches. As soon as we consider the branches we must speak at once about the vine. So Jesus says: "Just as the branch cannot bear fruit by itself unless it abides in the vine, neither can you unless you abide in me."
For Jesus is the vine, then our flourishing is in accordance with who Jesus is. Jesus is God's love to the world God so loves. Jesus is divine love made flesh. God's love lived among us as one of us. In the soil of this world as it is now, in its broken and twisted condition, the seed of God's love is rejected and killed. Yet God resurrects Jesus, the human face of God who is love. The seed of life grows into a vine and grows the branches to bear the fruit of love. The vine is love, therefore branches shall bear fruit of love. The heavenly Father cares for the vine and prunes it so that it flourishes in being the vine that it is, Jesus vine, whose branches bears fruit of love.
In other words, Jesus speaking of the vine and the branches, he is really talking about the nature of who we are. Jesus is speaking of who the church is, the church's being. The only way we are church is for us to abide in Jesus. There is no other way of being church. To abide in Jesus means to become his disciples, his followers to learn the way of Jesus and to live life in the way Jesus lived. And we know this way is love for God is love and Jesus is the Word of God in flesh and blood, the Word of God who was with God and is God.
However, it is a categorical error to think that our abiding is what determines our being as church. Jesus reminds us, we cannot do anything without him. We cannot be 'church' without Jesus. Just as the vine precedes the branches, the vine determines what fruit the branches will bear potentially, Jesus determines who we are. Abiding in Jesus and living in the way of Jesus is the outcome of what God has done in Jesus life, death and resurrection. To put it another way, we love because we are loved. We love because we are the beloved. We love because God loved us in and through Jesus.
So our loving today is not our own activity. Rather it is the work of love of God that we participate in. We cannot but be attentive to where and to whom God is leading us today. Just as we see in the example of Phillip in Acts, we are to be wholly given to God, for God to complete and perfect God's story of love through us here and now. Like Philip, let us be open to the Spirit of Jesus. Let us be attentive to the Spirit's call. This openness doesn't mean we stop the good work of organising ourselves; this is important. However, let us not be hindered by the work of organising ourselves when love is at stake. Let us be moved by love and compassion for this is who Jesus is and we are his branches. So to whom are we being sent by God so that God's love is perfected that is the fruit of the vine is shared to be enjoyed together?
This question is important because God's love is always particular. God's love is never a general invitation to all. It is a personal invitation. God's love is not some lovely idea that gives us lovely feelings either. God's love is actual, active and bears fruit. We have to be very careful that we do not hide behind the easy slogan of "God loves everyone, God welcomes everyone." Do we realise how radical this is? Let's briefly look at the story of Philip being sent by Jesus to the Ethiopian eunuch to grasp what God loves everyone means and looks like.
The Spirit of Jesus sends Philip to Ethiopian eunuch. In our way of being, in the system in which we operate as society, it is actually hard to meet people different to us. Our neighbourhoods are full of people who are like us, like us in economic and social status, like us in culture, like us in what we are used to and what we like. We can so easily deceive ourselves in to believing that this is normal and even hide behind this system to keep those who are different to us, those whose way offends us, those we would rather not mingle with at bay. Yet Philip, a Jew, is sent to an Ethiopian eunuch. Let's consider what this means. Jew to a gentile, Arab to African, a male to non-male, the poor to the rich. In Philip participating in the work of divine love for all, multiple boundaries are broken down. How often do we heed to this radical love?
If we merely operate in our own circle, in our normal organised way, we merely end up reasserting our economic, social, cultural, generational identity over against our identity as the branches of the vine, the Jesus vine. But when we follow the radical pursuing love of Jesus, when we follow the Spirit of Jesus, crossing boundaries, bringing down walls that divide us, we live out our identity as the branches of the vine, as disciples of Jesus, as those born of God.
As the Scriptures say: No one has seen God. Yet when we love one another, when we love others, there God is known, there in the midst of us, Jesus abides. So let us be known in how we love as God loves.
Song:  "Wonderful Grace"
Passing of the Peace of Christ: "Peace of Christ be with you"
Song of Sending: 'We Shall Go Out With Hope of Resurrection'
Benediction
The Grace of our Lord, Jesus Christ, the love of God and the communion of the Holy Spirit, be with us all now and for evermore. Amen.