For it is by grace you have been saved, through faith — and this is not from yourselves, it is t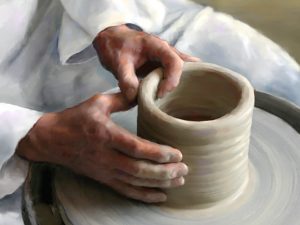 he gift of God. For we are God's artistry, created in Christ Jesus to do good works, which God prepared beforehand to be our way of life.
Welcome to the gathering of St. Mark's Church (Sunday worship under one roof) Sunday, March 14th 2021.
Ephesians 2:3-10 (NIV – adapted for worship)  All of us also lived among them at one time, gratifying the cravings of our flesh and following its desires and thoughts. Like the rest, we were by nature children of wrath. But because of his great love for us, God, who is rich in mercy, made us alive with Christ even when we were dead in transgressions—it is by grace you have been saved. And God raised us up with Christ and seated us with him in the heavenly realms in Christ Jesus, in order that in the coming ages he might show the incomparable riches of his grace, expressed in his kindness to us in Christ Jesus. For it is by grace you have been saved, through faith—and this is not from yourselves, it is the gift of God— not by works, so that no one can boast. For we are God's artistry, created in Christ Jesus to do good works, which God prepared beforehand to be our way of life.
Have you ever experienced living in a way that is self-gratifying and self-serving? Did such way of life had hurtful consequences on those you love and care for? Sometimes we live in ways that gratify merely our selfish desires at the cost of others. We desire things that are wrong; we follow things that are foolish. At the worst of times, we gladly do so knowing the harmful consequences to others without even a sense of shame or guilt. Rather we justify them as our human right. In Christ Jesus, we are saved from such way of destruction, where our hearts are as dead as stones, our conscience as dead as a corpse. By his Grace, we are made alive. As we trust this God, our hearts and conscience desire and follow the way of life created in Christ Jesus from all eternity to be the instruments of God's love for the world. This is the gift of life, the gift of faith, we are freely given to know who we are, who we are meant to be. To this, we are invited by our God of Jesus Christ. I invite you now to take a moment to reflect prayerfully.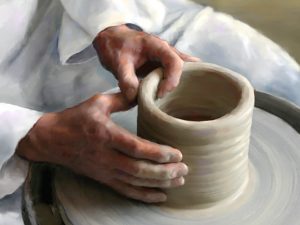 For it is by grace you have been saved, through faith — and this is not from yourselves, it is the gift of God. For we are God's artistry, created in Christ Jesus to do good works, which God prepared beforehand to be our way of life.
Song: 'Brother, Sister, Let me Serve You'
Welcome and Notices:
Praying the Psalm:
In this part of the service we pray a psalm together. We listen in on the story from which the psalm arises in order to pray these words for us and for the world. We will pray a section of Psalm 107 together. Before we do, I will provide some background.
This psalm invites all those who have experienced God's salvation to praise and to tell the story of God's goodness to the world. In particular, the section we will pray together invites those pilgrims who have wandered off to the way of sin having begun their journey of faith with God. To be more specific it speaks of foolish pilgrims who are stubbornly rebellious. They have experienced God's enduring love yet have broken the relationship of trust by being unfaithful to the one who is faithful. In a strange twist of events, the foolish pilgrims in their unfaithfulness come to realise their hurtful ways, they recognize the pain this has caused as they become physically ill themselves – so much so they think they were better off dead. In their misery they call out to God. Even in the midst of their unfaithfulness, God hears their call and heals them, saves them to the way of life with God.
People of God, have you ever wandered off the way of life that God leads us to? Are we at times stubborn in our ways – though we know we are being unfaithful to God who loves us? Have you experienced stubborn ways of others that leads to destruction in the end for all parties involved? As the consequences of our wrong ways plague us, have you experienced the healing love of God who is faithful even when we are not? Well, people of God, let us pray the psalm together to praise God for who God is, one who is faithful to us even in our unfaithfulness.
Let us pray the psalm together. Please respond with the words in bold.
Psalm 107:1-3, 17-22 (The Message – adapted for worship)
Oh, thank God — he's so good!     His love endures forever.
All of you set free by God,     Tell the world!
Tell how he freed you from oppression,
Then rounded you up from all over the place,
from the east and from the west,
from the north and from the south.
Some became fools through their rebellious ways
their bodies feeling the effects of your sin;
They couldn't stand the sight of food, so miserable they thought they'd be better off dead.
Then they cried to the Lord in their trouble,     and he saved them from their distress.
He sent out his word and healed them;     he rescued them from the grave.
Give thanks to the Lord for his unfailing love     and his wonderful deeds for humanity.
Sacrifice thank offerings     and tell of his works with songs of joy.
Prayer for Others:
We respond by singing the Lord's Prayer together
Offering and Dedication Prayer:
Song: 'Every Day'
Scripture: John 3:14-21, reading from the New Revised Standard Version
And just as Moses lifted up the serpent in the wilderness, so must the Son of Man be lifted up, that whoever believes in him may have eternal life.
"For God so loved the world that he gave his only Son, so that everyone who believes in him may not perish but may have eternal life.
"Indeed, God did not send the Son into the world to condemn the world, but in order that the world might be saved through him. Those who believe in him are not condemned; but those who do not believe are condemned already, because they have not believed in the name of the only Son of God. And this is the judgment, that the light has come into the world, and people loved darkness rather than light because their deeds were evil. For all who do evil hate the light and do not come to the light, so that their deeds may not be exposed. But those who do what is true come to the light, so that it may be clearly seen that their deeds have been done in God."
This is the Word of the Lord         Thanks be to God
Sermon Reflection:   When you see the cross what comes to your mind? How do you react to it?
You will know well that the cross was an execution method used by the Romans. So many people today don't like the fact that it's lifted high on the roof or become a decorative feature of church.
From the ancient times many people ridiculed Christians for believing in Jesus as Saviour for the very fact that he was executed on the cross. For the ancient people, they understood very well the implication and symbolism of the cross. It indicated shame, failed rebellion against the power of Roman Empire and their way of peace. So, many ancient people were astounded that Christians – without shame and without feeling embarrassed – would speak of the grace of God in the Christ crucified. Many people back then were simply too embarrassed to believe God of Christ crucified. They ridiculed Christians as foolish believing in a foolish God.
Though deemed foolish, as Christians we believe that this is how we are saved. What the world calls foolish has indeed become wisdom for us. So Paul proclaims: "Brothers and sisters, think of what you were when you were called. Not many of you were wise by human standards; not many were influential; not many were of noble birth. But God chose the foolish things of the world to shame the wise; God chose the weak things of the world to shame the strong. God chose the lowly things of this world and the despised things — and the things that are not — to nullify the things that are, so that no one may boast before him. It is because of him that you are in Christ Jesus, who has become for us wisdom from God — that is, our righteousness, holiness and redemption." (1 Corinthians 26-31)
Today's reading begins with the words: "And just as Moses lifted up the serpent in the wilderness, so must the Son of Man be lifted up, that whoever believes in him may have eternal life." So I want us to ponder on this as to what this could mean to us that Jesus Christ is lifted up, what it means for us to see the cross of Jesus Christ. To do this, I want to remind you of the story of Moses lifting up the serpent in the wilderness.
This is a strange incident in the Bible. God has freed the Hebrew people from their enslavement in Egypt. They were led out from the place of slavery towards a home of freedom. Along this way, during this long journey of 40 years, many things happen. Dangers in the form of armies and the extreme environment of the wilderness threatens them and their lives. At each turn of events, the Hebrew people complain and grumble, blaming God for the imminent threat to their lives. They even wish that they were back in the thralls of Egypt, for though they were slaves, at least there was no immediate threat of death.
People are often forgetful and nostalgic. They forget how their children were decimated in the hands of the Egyptian authorities in order to cull them and control them before they grew to a number that threaten Egyptian masters. They become nostalgic even of enslavement, back breaking labour, without rest, a loss of dignity, that which killed them slowly and softly. Do they really wish this upon their future generations?
At each turn of events, God saves them from the threat. God implores them to trust him, be faithful to him, as God is faithful to them even when they are unfaithful. After many repeated blamings and unfaithfulnesses to the God who saves them, at one point, God sends a poisonous snake towards them. Some of them are bitten and eventually some die. Some in their suffering begin to cry out to God. They recognise how they have treated God unfairly and without love. They repent. God seeing their suffering and tells Moses to make a snake and put it up on a pole; anyone who is bitten can look at it and live. So Moses made a bronze snake and put it up on a pole. Then when anyone was bitten by a snake and looked at the bronze snake, they lived. (Numbers 21:4-9)
This is certainly a difficult story. It does seem to suggest that God is punitive that God's relationship to us is merely transactional between a ruler and their subject. I do not believe this to be true for God is also proclaimed as Love. In fact, in our reading in John, God so loves us and the world that God has made, that God would not spare the only unbegotten Son to save us. Emphatically we are told that the Son of God, the Word of God, Jesus, the God-embodied, the God in our own shoes, is not sent to condemn us but to save us through him. In spite of this, the mystery is explained that that the light has come into the world, and people loved darkness rather than light because their deeds were evil. When the light comes, by nature, it brings to light those things that are hidden. We prefer to be in darkness.
So what could it mean that Jesus is to be lifted up on the cross like the bronze snake on a pole? I want to tell you a story and I pray it paves at least one stone that leads to the greater understanding and desire for God who is love.
I remember having an argument with my mother. Your families are perfect, right? So you don't have any arguments, right? Well my mother and I did. I remember unable to control my anger, said some things that were hurtful to any mother who has given birth to her child in love. The following day, I was so angry but I started to feel terrible for what I said to my mother. But I wasn't ready to say sorry. She must say sorry first! During the day I felt almost literally sick as it began to sink in how my words would have caused my mother much pain and sorrow. I felt sick with horror that I was capable of hurting my own mother. I began to hate myself. I began to feel so embarrassed that I couldn't face my mother. Yet I gathered myself up and went to her as she was fixing lunch for me. She had continued to prepare my meals in spite of my sordid behaviour. I said: "I am sorry, please forgive me." She said, "You hurt me. I will try hard to forget it." She said this as she scooped up freshly made steaming rice on my bowl and placed side dishes that filled the table.
There are consequences to unfaithfulness. In a relationship, when we are unfaithful, we hurt the ones who love us. Sometimes we justify ourselves and believe we had every right to do so. We say things like, "I didn't do anything illegal". If we truly believe this, well, then we don't know what loving relationships are truly based on. When I look back at the time I felt sick as I realised the hurt I had caused, in a strange way, I consider it a moment of grace. Imagine, my heart, stubborn as it was, if it was as cold and dead as a stone, and would not be affected by my mother's pain and sorrow, I wonder where we may be today. By grace in the midst of feeling the pain of hurt I had caused, a space was made in my stubborn heart to ask for forgiveness. In so doing, I was able to start anew and return the faithful love my mother gave me. I consider this a gift of God's grace.
I wonder whether the bronze snake on the pole represents the double side of grace. Grace is love and love by its holy presence makes us recognise the ugliness and stench of our unfaithfulness towards the one we claim to love. Yet in acknowledging this pain, a way is thrust open towards a new beginning. Asking for forgiveness for our wrongs and paving the way for reconciliation, is not a condition but an expression of love, a desire to be with the one you love. In the midst of this, Grace is already fixing up a warm meal for us, for God's love is faithful always – even in our most unfaithful moments.
As God in Jesus Christ is lifted up on the cross, we see the horror of inhumanity – of our humanity that we would kill the innocent, we would kill the one who loves us to death. Jesus is lifted up high on the cross for us to recognise the sin of our unfaithfulness towards God and towards one another in order that reconciliation is fulfilled. Ultimately, our participation in our inhumanity towards our fellow humans, towards the beauty of creation, animals and insects and the environment, the betrayal to live as God has destined us to be, ultimately, leads to decay and death, killing us slowly, killing those we have hurt slowly. In our horror, we see also God's love lifted high up on the cross. Jesus on the cross, the God in our own shoes, God in our humanity, takes upon himself all that is inhumane and even the ultimate consequence of our sin – death on the cross because of God's love for the world. In this, God paves the way for life that is everlasting, a way that we are able to return to God every time, every where, for God is already, in love, waiting and fixing up a warm meal for us.
Song: 'Now to Your Table Spread'
Holy Communion:
Sharing the Peace of Christ: Peace of Christ be with you.
Song of Sending: 'May the Roads Rise'
Benediction:
The Grace of our Lord Jesus Christ
The Love of God
The Communion of the Holy Spirit
Be with us all now and forever. Amen