In your relationships with one another, have the same mindset as Christ Jesus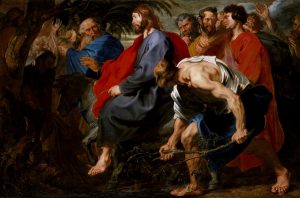 Philippians 2:5
Welcome to the gathering of St. Mark's Church (Sunday worship under one roof)
Sunday, March 28th, 2021.
Today, we celebrate Palm Sunday. On Palm Sunday we reflect on Jesus triumphal entry into Jerusalem on a donkey. Yes you heard it on a donkey not a stallion, or with a cavalry. It is in stark contrast to the military parade of power. Rather it is a parade of triumphal love. It is a vision of humility, a vision of love, a vision of victory of love over all powers. This is God's loving will for humanity and all creation in full display. How appropriate it is then that we begin with these words from Philippians. A Hymn to our servant saviour Jesus Christ.
Philippians 2:5-11
In your relationships with one another, have the same mindset as Christ Jesus:
Who, being in very nature God,
did not consider equality with God something to be used to his own advantage;
rather, he emptied himself,
by taking the very nature of a servant,
being made in human likeness.
And being found in appearance as a man,
he humbled himself
by becoming obedient to death—
even death on a cross!
Therefore God exalted him to the highest place
and gave him the name that is above every name,
that at the name of Jesus every knee should bow,
in heaven and on earth and under the earth,
and every tongue acknowledge that Jesus Christ is Lord,
to the glory of God the Father.
Friends, we continue in our Lenten journey where we are invited to be centered in Christ once again.
To be centered in Christ means to be Christ-like.
To be centered in Christ means to have the same mindset as Jesus.
To be centered in Christ means to learn humility before God for God is Love. This begins with "emptying" ourselves.
What does it mean for us to empty ourselves like Christ before God, for the sake of Love?
What does it mean for us to be obedient to the way of Christ for the sake of God's loving will towards all of creation?
What does it mean for us to be servants of God, God who is love? By the Spirit of Christ, let us learn the way of love through humility rather than pride, let us practise the way of love through obedience rather than control, and let us be lovers who serve rather than lord over others. Let us be towards one another as Christ is to God whose will is love – humble, obedient and serving.
I invite you to a time of reflection. We will do this in silence. Silence is an important spiritual practice. It isn't, I stress to you, it isn't a time of doing nothing. It is an intentional time of emptying our mind and heart of noises so that we hear the voice of God, to fill our mind and heart with the voice of love, the ground of our being and doing. The picture below may help you to focus.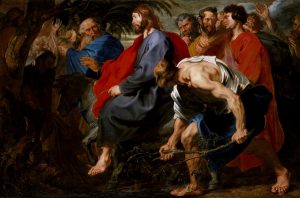 Entry of Christ into Jerusalem by van Dyck
In your relationships with one another, have the same mindset as Christ Jesus.                                              Philippians 2:5
Song: 'Be Still for the Presence of the Lord'
Welcome and Notices:
Celebrations:
Song: Aaronic Blessing
Praying the Psalm:
This is a part of the worship service where we pray a psalm together. A psalm is often honest to the afflictions we face in life. It forgoes all the niceties and 'shoulds' and 'don'ts', and invites us to be honest to how we are. Psalms invite us to be honest before God rather than trying to put on an image of a good person. They invite us to feel, to know the full weight of the situation we and our neighbours face.
The psalm we will pray together is Psalm 31. The words here are raw. They are as raw as the wound caused by those who seek the psalmist's demise. The sorrow, grief, anger, towards the injustice, inhumanity of his enemies, eat away at his own body. On all sides, he is cut off, utterly alone, an object of utter contempt who is treated like he is worthless, a mere waste. In such distress, he turns his face towards God – God of his deliverance, Lord of his fate, the face of love turned towards him.
People of God, have you times when sorrow, grief and anger eat away at your own body? Have you times when you are in disbelief and horror at the way people can be so malicious? Have you seen this happen to someone? Have we been malicious to others? Let us cry out to God for all the victims of inhumanity. Let us lament that this world, we ourselves, are not of the same mindset as Christ is towards one another – our face turned towards one another in love of the joy of being together.
Let us pray the psalm together. Please respond with the words in bold.
Psalm 31:9-16 (NIV)
Be gracious to me, Lord, for I am in distress;
my eyes grow weak with sorrow,
my soul and body with grief.
My life is consumed by anguish
and my years by groaning;
my strength fails because of my affliction,
and my bones waste away.
Because of all who seek my demise,
I am the utter contempt of my neighbours
and an object of dread to my closest friends —
those who see me on the street flee from me.
I am forgotten as though I were dead;
I have become like broken pottery.
For I hear many whispering,
"Terror on every side!"
They scheme together against me
and plot to take my life.
But I trust in you, Lord;
    I say, "You are my God."
My times are in your hands;
deliver me from the hands of my enemies.
Let your face shine on your servant;
save me in your unfailing love.
 Prayer for Others:
We respond by singing the Lord's Prayer together [offering to be brought up during the chorus "Amen"]:
Offering and Dedication Prayer:
Song: 'Hosanna'
Scripture: Mark 11:1-11
When they were approaching Jerusalem, at Bethphage and Bethany, near the Mount of Olives, he sent two of his disciples 2and said to them, "Go into the village ahead of you, and immediately as you enter it, you will find tied there a colt that has never been ridden; untie it and bring it. 3If anyone says to you, 'Why are you doing this?' just say this, 'The Lord needs it and will send it back here immediately.'" 4They went away and found a colt tied near a door, outside in the street. As they were untying it, 5some of the bystanders said to them, "What are you doing, untying the colt?" 6They told them what Jesus had said; and they allowed them to take it. 7Then they brought the colt to Jesus and threw their cloaks on it; and he sat on it. 8Many people spread their cloaks on the road, and others spread leafy branches that they had cut in the fields. 9Then those who went ahead and those who followed were shouting,
"Hosanna!
Blessed is the one who comes in the name of the Lord!
10Blessed is the coming kingdom of our ancestor David!
Hosanna in the highest heaven!"
11Then he entered Jerusalem and went into the temple; and when he had looked around at everything, as it was already late, he went out to Bethany with the twelve.
Sermon Reflection:                                           by Stewart Gavin.
….thy kingdom come / thy will be done on earth as it is in heaven…. 
These 2 topics are interlinked, of course, since God's kingdom coming is His will
I talked a little of God's Kingdom last time, and how little it matches kingdoms on earth.  Mostly we have earthly economic kingdoms these days, and there are many examples of abuse of power within them.  In amongst the huge reading poor Margaret presented, were two short parables – the mustard seed and the leavened bread.  I was trying to suggest God's Kingdom can come quietly, without fuss, and we can share in the process.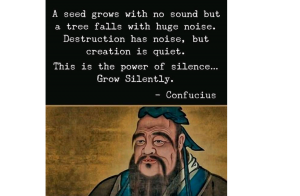 Today, I want to share a few thoughts about God's will.  For those who have forgotten more about this than I'll ever know I give you a puzzle to ponder while I talk.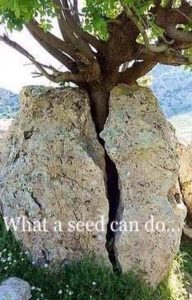 Urban myth: Frogs in an Aquarium.  Let's assume frogs die if water temperature is 35 degrees and they show great – if brief – distress at that temperature.  But if you start at 20 degrees and increase temperature by 1 degree per week, what will happen?  According to the myth, they show no distress as the critical temp approaches.  True or not, what could it mean?
For the rest of us – back to God's will.
What is God's Will? – Fortunately the big picture for us is quite simple.
Micah 6 verse 8 – He hath shown thee, O man, what is good: and what doth the Lord require of thee but to do justly and to love mercy, and to walk humbly with thy God?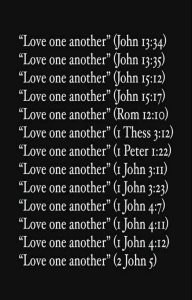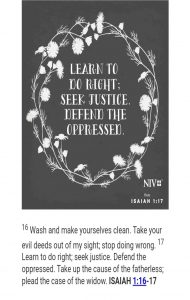 Jesus said to Herod:  My kingdom is not of this world (violent, imposed, populist, self-serving) and we should not be surprised if his will is different to our will.
God says in Isaiah:  My ways are not your ways or my thoughts your thoughts,
so our thoughts and habits are not necessarily a good guide.  But if they match up to Micah etc they are helpful.  They should be our default setting.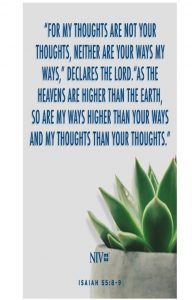 In the Bible, people were told in a variety of ways, Moses and the burning bush, Joseph dreams about Mary, moving to Egypt, Baleem's Donkey, Wise Men, Phillip and the Ethiopian, Peter in Jail, Paul – road to Damascus, calling of Peter to Cornelius.
It's easy to think that that is the way we should be guided in like manner.  I think they were special days, a special time, special people.
I've had dreams, no knowing of God's will, all my premonitions have been false.  Does this mean I don't know God's will?
Our thoughts about God are expressed in various ways
Superhuman: busy as, frenetic, like us (Jill, Abraham, 25 years, needs a reminder, a helping hand).  " I asked God for xyz but he was too busy"  Unresting, unhasting and silent as light, nor wanting, nor wasting, …"
If we think that we can think (wrongly) that God needs our help to accomplish stuff
We need to revise who and what God is, it shapes our lives and thoughts more than you think – but another time.
Do I – Stewart Gavin – know God's will?  Yes and No.
Practice God's will
E.g. learning to walk, learning to catch
Then we say it's easy.  But it isn't easy.  It has become "normal" for us, ingrained, through many mistakes.  We learn to enjoy it, feel more confident, resilient.
We need to practice.  Mistakes will be made.  They are not important if within the guidelines.  Don't teach our children to learn to walk beside cliffs.  Or to catch by throwing them a small but priceless Ming Dynasty Vase.
As we get older we fear mistakes, fear embarrassment, forget we learn from practice, get impatient with our slowness in learning new tasks, fear change, yet the Gospel is about change, repent, renew, transform
Americas Cup – practice practice practice.  Any sportsperson.  Military.  Business.  "The more I practice the luckier I get"
We want to know more about God's will – we need to practice, show commitment, pray, tithe, fast – not that God won't help those who don't do these things, but he will show more to those who do practice them because we learn to do his will and become more competent feel the joy of it  e.g. dog's enthusiasm.
God's will is not confirmed by a life of comfort – I have to believe that – my life at the moment is a train wreck
Ohio State Penitentiary.
Depression times
Successful contract murderer
Killed an important citizen with a bomb hidden under snow at letterbox
Played poker with some locals at the hotel he stayed at
Police asked locals if anyone new was in town
Bomb making equipment in bedroom
Sentenced to jail.
Widow sent 14 yr old son to the prison with her deceased husbands bible, to say "you will be needing this now"
Man became a Christian, died in jail, highly trusted, affected the lives of many inmates
This is God's will on earth
Sunday TV ONE 7.30 pm Restorative Justice                                      
6 yr in the making
Mongrel Mob murdered someone's son
Father asked the judge that he be forgiven (and not easy)
Attitude of Mongrel Mob member at sentencing
Arranged a restorative justice meeting, offered his support for parole
Mongrel Mob said he needed more time to sort himself out.
This is God's will on earth
Not easy. Never will be. 
A change is going to come  Bryan Adams with his father singing Sam Cooke's song.
[Notes coming next week]
Song: 'Pioneers of Hope'
Sharing the Peace of Christ: Peace of Christ be with you.
Song of Sending: 'Now As We Go'
Benediction:
The Grace of our Lord Jesus Christ
The Love of God
The Communion of the Holy Spirit
Be with us all now and forever. Amen