Since we have that same spirit of faith, we also believe and therefore speak. Therefore we do not lose heart. Though outwardly we are wasting away, yet inwardly we are being renewed day by day.
Welcome to the gathering of St. Mark's Church on Sunday,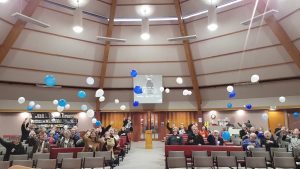 2 Corinthians 4:13—5:1 (NIV)
It is written: "I believed; therefore I have spoken." Since we have that same spirit of faith, we also believe and therefore speak, because we know that the one who raised the Lord Jesus from the dead will also raise us with Jesus and present us with you to himself. All this is for your benefit, so that the grace that is reaching more and more people may cause thanksgiving to overflow to the glory of God.
Therefore we do not lose heart. Though outwardly we are wasting away, yet inwardly we are being renewed day by day. For our light and momentary troubles are achieving for us an eternal glory that far outweighs them all. So we fix our eyes not on what is seen, but on what is unseen, since what is seen is temporary, but what is unseen is eternal.
For we know that if the earthly tent we live in is destroyed, we have a building from God, an eternal house in heaven, not built by human hands.
It also serves as a defense of his ministry and apostolic authority. Paul argues that persecution and suffering are not signs of failure that should cause the Corinthians to doubt his leadership. Instead, these demonstrate that Paul's ministry on behalf of the gospel—and indeed, all of Christian life—involves continual death and resurrection in conformity with the crucified and risen Christ.
Resurrection life is apparent not only in the absence of suffering or strife, but also—and even especially—in the midst of these, as God's Spirit is present and working to bring new life in ways often unseen. Paul's loving commitment to the Corinthians is, in fact, demonstrated by his willingness to endure suffering to bring the gospel to them (2 Corinthians 4:7-12, 15). Suffering itself is not redemptive, but it is an inevitable part of living and preaching the gospel of life and truth in a world where the powers of death and deception still attack, until the fullness of God's purposes is realized.
I invite you now to a time of prayerful reflection.
Prayerful Reflection:
Since we have that same spirit of faith, we also believe and therefore speak. Therefore we do not lose heart. Though outwardly we are wasting away, yet inwardly we are being renewed day by day.
Reflection song: Behold I Make All Things New by Alana Levandoski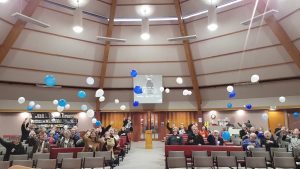 Song: 'All People That On Earth Do Dwell'
Welcome and Notices:
Praying the Psalm:                          Please respond with the words in bold.
Psalm 130 (NIV) adapted for worship
Out of the depths I cry to you, Lord;
Lord, hear my voice.
Let your ears be attentive
to my cry for mercy.
If you, Lord, kept a record of sins,
Lord, who could stand?
But with you there is forgiveness,
so we worship you.
I wait for the Lord, my whole being waits,
and in his word I put my hope.
I wait for the Lord
more than watchmen wait for the morning.
More than watchmen wait for the morning,
I wait for the Lord.
People of God, put your hope in the Lord,
for with the Lord is unfailing love
and with him is full redemption.
He himself will free us
from our captivity to sin.
Prayer for Others
Song: Millennium Prayer   [The offering will be brought up]
Offering Prayer
Song: 'Let Us Talents And Tongues Employ' 
Scripture Reading:  Mark 3:20-35
20and the crowd came together again, so that the disciples could not even eat. 21When Jesus' family heard it, they went out to restrain him, for people were saying, "He has gone out of his mind." 22And the scribes who came down from Jerusalem said, "He has Beelzebul, and by the ruler of the demons he casts out demons." 23And he called them to him, and spoke to them in parables, "How can Satan cast out Satan?
24If a kingdom is divided against itself, that kingdom cannot stand. 25And if a house is divided against itself, that house will not be able to stand. 26And if Satan has risen up against himself and is divided, he cannot stand, but his end has come. 27But no one can enter a strong man's house and plunder his property without first tying up the strong man; then indeed the house can be plundered.
28"Truly I tell you, people will be forgiven for their sins and whatever blasphemies they utter; 29but whoever blasphemes against the Holy Spirit can never have forgiveness, but is guilty of an eternal sin"— 30for they had said, "He has an unclean spirit."
31Then his mother and his brothers came; and standing outside, they sent to him and called him. 32A crowd was sitting around him; and they said to him, "Your mother and your brothers and sisters are outside, asking for you." 33And he replied, "Who are my mother and my brothers?" 34And looking at those who sat around him, he said, "Here are my mother and my brothers! 35Whoever does the will of God is my brother and sister and mother."
Sermon Reflection:  I need to inform you this before I begin. Over the last couple of Sundays we have been celebrating the Holy Spirit's coming on the followers of Jesus, who becomes the church. One of the image of the Holy Spirit is fire, of course. Well, I just need to warn you that as I had set down to prepare this reflection, and literally put my fingers to type, the fire alarm went off in this place. Of course, this could be taken in two ways. What I am about to share with you the church is incendiary in a good way of the Holy Spirit or the Holy Spirit drove me out to stop the train of thought. My prayer is that the Holy Spirit will guide you to discern and hear the voice of God who lights fires in our hearts to both burn away the impurities that undo the work of beauty and to enflame our hearts grown cold and apathetic.
On the day of Pentecost, the followers of Jesus were gathered in the upper room. They were waiting for the promised Holy Spirit, as assured by Jesus that another Advocate would come to empower them to be Christlike for the world that the world may know the love of God that frees them from our captivity to sinful ways of humanity. As they waited, suddenly their place was filled with a rushing wind and on each of them rested a tongue of flame. And they began speaking in a strange language. They were sent out and what they were saying was heard by many pilgrims who had travelled to Jerusalem from the known world of Roman Empire.
So it happens that the day of Pentecost was the important Jewish religious festival called the Festival of Weeks. From a practical perspective everyone spoke ancient greek, the language of the empire. If it was merely the words of the message that was necessary to be communicated then the language of the empire would have done the job just fine. Yet the message of the followers of Jesus was heard in the mother tongue of the lands, the places, the homes, the empire had invaded and occupied for generations. And the crowd was stunned and asked: "What does this mean?" And, of course, some, though hearing but not listening to the voice, dismiss it cynically – "they are drunk" that they are not worth listening to. Others believe and with the same spirit of faith, they become part of the community that speak of the message of Christ in the languages of mother tongues rather than the language of the empire.
A history lesson for you. The day of Pentecost was during the Festival of Weeks, an important religious festival of Judaism. It is a harvest festival. It is a festival that follows the Passover 50 days afterwards. By the way, Pentecost means 50. The Passover you may know is the religious festival central of Judaism. It is the festival that remembers how God freed the Hebrew people from their captivity as slaves in Egypt. The Feast of Weeks happened 50 days after to remember and celebrate the harvest of first fruits in the land of their freedom and the birth of a nation, the people of God. Now you may have heard that Pentecost, the coming of the Holy Spirit, is also known as the birthday of the church, the beginning of the church. As you may be already making the connection between Festival of Weeks and Pentecost, Pentecost is considered the birthday of the church for the very reason that that it happened in the Festival of Weeks, the harvest festival of first fruits. Church is the first fruit of new creation, the birth of a new community of God.
So if Pentecost is the birthday of the church, the new community of God, set apart for the purposes and dreams of God for the world, how are we to understand the significance of the coming of the Holy Spirit? Last Sunday we reflected together on the image of the Holy Spirit as the first breath of the new community of God set apart by God for God's mission of love begun anew in Jesus. When we are born we take our first breath. A new born breathes for the first time. And in an instant finds a voice and cries. If we think about this and reflect on it, the time between the first breath and the sound of a cry, though short, it is a space between life and death. I wonder then perhaps we can say that there is a symbolic connection between breath and voice that those who lack a voice in our world though living is dying, those who lack a voice in our world needs breath.
Today we have heard the story of Jesus. I want us to reflect on this story from the point of view of breath and voice. I trust it will become clearer as I go on. The story begins with whole lot of people. There were enough people to make it impossible for the disciples to eat. Just imagine. People upon people packed. Anyone who is claustrophobic will understand the pressure and the struggle to breathe. What's more for Jesus, his family descends upon him after hearing a report that their son, their sibling, their cousin, their nephew, has gone mad. The voice that the family believed in was the voice of the religious authorities who maintained the status quo.
Jesus got on the wrong side with the religious authorities not because he healed the sick and dined but because he did not follow the religious rules of piety. He can heal every other day of the week but not on the day of rest because no work should be done. He can dine but not with those who are enemies and religiously impure by the standards of religious piety. There is a status quo. You can do good things, sure, but you must do it this way. You are mad to go against the conventions and customs of our way. Suffocating.
Those who want to keep power and rule and keep the way as it is for it suits them, they do what they do best demonise those who go against the status quo. In front of his family, in front of the crowd, in front of his followers, they accuse Jesus of being possessed by the ruler of demons and by this authority he is driving them out. The very breath that carries the voice of Jesus is demonic, they accuse. We all know what happens when those who rule over us demonise a person, a community, they silence their voice by making us turn against them. But Jesus is the Word of God, they've met their match.
Jesus overturns their sensationalizing and polarizing accusation on its head as he calls out its absurdity. Even evil when it is not united, when it stands divided, it shall fall. Now that they can't silence him, Jesus proclaims the Good News. The Spirit by whom he heals, and frees people of their demons that hold them captive, is the Holy Spirit, Spirit of God. This in turn means God has made captive the despot of this world, who wants the world this way because it suits them. In other words, the very breath that carries the voice of Jesus is God's Spirit of new creation and liberation.
Against the suffocating and silencing oppression of those who want Jesus to conform to their customs and convention, Jesus stands his ground and his voice rises over the noises and reaches those who have ears and listens. Jesus proclaims: "Whoever does the will of God is my brother and sister and mother." He dreams and proclaims God's will for a new community whose belonging is defined not through bloodline, ethnicity or customs but along the line of divine will – the mission of love, work of reconciliation and liberation.
There shall be a new people formed by Jesus, the Word of God, and animated by the Holy Spirit, the breath of new creation, standing united as one without fear of the powers opposing God's loving will but driven by hope for a world united. We, whose first breath is the Holy Spirit, the first fruit of new creation ordered according to Christlike love, you and I are the voice that shall be heard. You and I are the breath that gives voice to those who are voiceless. You and I are the people who speaks the language of the Empire but speaks the language of native tongues to behold in it beauty and meaning and the glory of God. Because we have the same Spirit of faith as Jesus, we will speak, we will carry our voice in the breath of the Holy Spirit.
I want to finish with this story. Last year over in the US, a man named George Floyd died at the hands of the police. The policeman has been charged with third degree murder. During his arrest the policeman placed his knee on the neck of George Floyd for more than 9 minutes. George Floyd pleaded for his life – "I can't breathe."
Nigerian, Ben Okri, Man Booker Prize winner for his book The Famished Road wrote an opinion piece published in the Guardian. I want to read you an excerpt from it:
Perhaps we empathise best when we can enter into the condition. "I can't breathe" suddenly equates racism with the deprivation of air, which is what it always was. Previously we saw racism, if we saw it at all, as a diminishment of a person's humanity. But that was always too vague.
"I can't breathe" goes beyond saying that you are depriving me of freedom, of humanity, of respect. It says: "You are depriving me of the right to air itself."
"I can't breathe": we need a new language to express the fundamental clarity of what happens when people are demonised, excluded, deprived, oppressed, and killed because of the colour of their skin. We need a new language, a phrase for that condition. Only an extreme, and terminal agony could have expressed the very heart of what racism does as when George Floyd said, almost in a whisper: "I can't breathe."
https://www.theguardian.com/commentisfree/2020/jun/08/i-cant-breathe-george-floyds-words-reverberate-oppression
Reflection Song: He is among us by Porter's Gate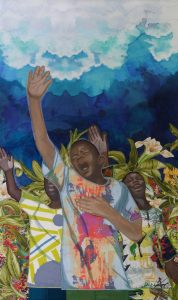 High and Lifted Up by Phyllis Stephens
You'll hear My voice
cry out with those who weep
Only if you're listening
You'll find Me
with the ones without a voice
Song: 'Spirit of God'
Passing of the Peace of Christ: In Christ, You are included!
Song of Sending: 'We Shall Go Out With Hope of Resurrection'
Benediction
The Grace of our Lord, Jesus Christ, the love of God and the communion of the Holy Spirit,
be with us all now and for evermore. Amen.