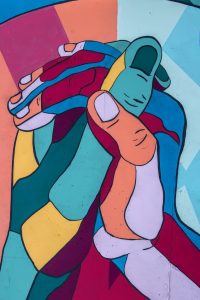 Let my love wash over you
Just let go, let go of control
You are caught
Caught up in a web
But I'll unravel you
If you trust my touch
You are my bride
Glowing glorious and bright
As my shining sun
This is who you are to me.
Welcome to the gathering of St. Mark's Church (Sunday worship under one roof) Sunday, July 25th, 2021.
Bowing down to God doesn't necessarily mean God considers us as God's subjects but rather a claim that we will not bow down to anything else other than God – love seen in Christ, love that is our life.
Many people pray. People who are religious, spiritual, pray. Many pray for their hopes, better life, better health, success. Why do we pray? Our prayer reveals something about the God we believe and believe who we are.
Let me read this beautiful prayer for us. What does this prayer reveals about God and who we are?
Ephesians 3:14-21
14For this reason I bow my knees before the Father, 15from whom every family in heaven and on earth takes its name. 16I pray that, according to the riches of his glory, he may grant that you may be strengthened in your inner being with power through his Spirit, 17and that Christ may dwell in your hearts through faith, as you are being rooted and grounded in love. 18I pray that you may have the power to comprehend, with all the saints, what is the breadth and length and height and depth, 19and to know the love of Christ that surpasses knowledge, so that you may be filled with all the fullness of God. 20Now to him who by the power at work within us is able to accomplish abundantly far more than all we can ask or imagine, 21to him be glory in the church and in Christ Jesus to all generations, forever and ever. Amen.
What I find beautiful about this prayer is not so much about the beautiful words and impressive way it is written rather it has to do with who God is and who we are that the prayer assumes.
It begins with bowing down on our knees as if we are a mere subject, subservient to the ruler. Yet soon enough we realise the context here is not between a ruler and those ruled rather it is between a parent and child, between family.
The purpose of the prayer isn't so much about better life, greater success, rather it is to do with being rooted and grounded in love. In fact, this love controls what is meant by better life and greater success. Perhaps this is why it begins with bowing down as a commitment.
What we need for love therefore is not more of something rather it is who, we need someone, we need relationship. This someone is Spirit who is our inner strength, Christ who is our heart, our faith. We need the Spirit and Christ for love. We need all the saints for it is our quest together to comprehend this love.
To comprehend this love that is incomprehensible, love that surpasses all knowledge, this love that is abundantly more than all that we can ask or imagine, we need all of God and, all of God, is what God gives to us. So who is God? And friends, who are you then?
Prayerful Reflection:
I invite you now to a time of prayerful reflection.
Reflection Song: Let my love by John Mark Pantana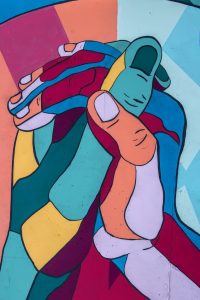 Colorful Hands Mural in Newberg photo by Tim Mossholder on Unsplash
Let my love wash over you
Just let go, let go of control
You are caught
Caught up in a web
But I'll unravel you
If you trust my touch
You are my bride
Glowing glorious and bright
As my shining sun
This is who you are to me.
John Mark Pantana
Song: 'Spirit of the Living God'
Welcome and Notices:
Celebrations:
Song: 'Aaronic Blessing'
Praying the Psalm:
Today we pray Psalm 14 together. The language here is charged with high emotion. Absolutes are used. In dismay at the way humans treat one another, the poet laments: there is no one who does good, no, not one. The experience of this world is like that of the food chain pyramid of the animal kingdom. The rich at the top and the poor at the bottom. In confusion, in bewilderment, the poet posits that those who do evil must believe that there is no God, otherwise how can they be like this. If they seek after God, how could they be like this? This, in turn, becomes a challenge to those who claim to believe in God, who call upon God – how do we live? Are our ways righteous? Do our ways provide a refuge for the poor? For this is who God is, for these are with whom God is.
Friends, have you been dismayed by the way humans are toward one another? There are times when we are overwhelmed by the sheer horror that we grab hold of absolutes – there is no one good, not even one! Do you know anyone who is going through such dismay? Perhaps we want to say to them, no look, there are good things in the world, there are good people. This, of course, is the voice of rationality. Yet, perhaps what this psalm teaches us is to enter into the pain of the suffering of these people. Rather than a voice of rationality, become a voice of compassion that joins in the voice of those who are suffering in injustice and chained and trapped.
Let us pray this psalm together. As we do so, let us the people of God live as God is, with those who seek justice and with those who are poor. Let us the people of God live as God is, restoring humanity from its inhumanity.
Please respond with the words in bold.
Psalm 14
Those who say in their hearts, "There is no God."
They are corrupt, they do abominable deeds;
there is no one who does good.
The Lord looks down from heaven on humankind
to see if there are any who are wise,
who seek after God.
They have all gone astray, they are all alike perverse;
there is no one who does good,
no, not one.
Have they no knowledge, all the evildoers
devour my people as though eating bread,
and do not call upon the Lord?
But there they are: evildoers overwhelmed with dread,
for God is with the company of the righteous.
Evildoers, you frustrate the plans of the poor,
but the Lord is their refuge.
O that deliverance for Israel would come from Zion!
Jacob will rejoice; Israel will be glad,
when the Lord restores his people.

Prayer for Others:
Song: The Lord's Prayer                                                     and offering
Offering Prayer:
Song: 'Lord We Stand In the Shallows'
Scripture Reading: John 6:1-21    6 After this Jesus went to the other side of the Sea of Galilee, also called the Sea of Tiberias. 2A large crowd kept following him, because they saw the signs that he was doing for the sick. 3Jesus went up the mountain and sat down there with his disciples. 4Now the Passover, the festival of the Jews, was near. 5When he looked up and saw a large crowd coming toward him, Jesus said to Philip, "Where are we to buy bread for these people to eat?" 6He said this to test him, for he himself knew what he was going to do. 7Philip answered him, "Six months' wages would not buy enough bread for each of them to get a little." 8One of his disciples, Andrew, Simon Peter's brother, said to him, 9"There is a boy here who has five barley loaves and two fish. But what are they among so many people?" 10Jesus said, "Make the people sit down." Now there was a great deal of grass in the place; so they sat down, about five thousand in all. 11Then Jesus took the loaves, and when he had given thanks, he distributed them to those who were seated; so also the fish, as much as they wanted. 12When they were satisfied, he told his disciples, "Gather up the fragments left over, so that nothing may be lost." 13So they gathered them up, and from the fragments of the five barley loaves, left by those who had eaten, they filled twelve baskets. 14When the people saw the sign that he had done, they began to say, "This is indeed the prophet who is to come into the world."
15When Jesus realized that they were about to come and take him by force to make him king, he withdrew again to the mountain by himself. 16When evening came, his disciples went down to the sea, 17got into a boat, and started across the sea to Capernaum. It was now dark, and Jesus had not yet come to them. 18The sea became rough because a strong wind was blowing. 19When they had rowed about three or four miles, they saw Jesus walking on the sea and coming near the boat, and they were terrified. 20But he said to them, "It is I; do not be afraid." 21Then they wanted to take him into the boat, and immediately the boat reached the land toward which they were going.
Sermon Reflection:
I want to draw your attention to the words of Philip and Andrew. When Jesus asks: "Where are we to buy bread for these people to eat?" Philip responds: "Six months' wages would not buy enough bread for each of them to get a little." Andrew responds: "There is a boy here who has five barley loaves and two fish. But what are they among so many people?" How do you find yourself responding to these responses?
It's interesting that we are told that Jesus asks his disciples to test them. I don't know about you but my initial reaction was negative. Test? Does that mean we can pass or fail? I don't think this is what is meant by test here. Rather biblical understanding of God's test is not about passing or failing. God tests us to reveal what our heart is made of. God doesn't leave us if what he sees doesn't meet his standard. God reveals what is in our hearts because more often than not we either don't know what our heart is actually made of, or we have been deceived. Often we believe something about ourselves that is not true. So what does these words of Philip and Andrew reveal that their heart is made of?
Those words of Philip and Andrew are our words, aren't they? There are so many needs to meet, so many that they overwhelm us. We price it up and realise the enormity of the situation. Listen again to Philip's words: "Six months' wages would not buy enough bread for each of them to get a little." I hope you can hear how disheartened he is, like us disheartened. We look at what we do have and wonder is it enough? Listen to the words of Andrew again: "There is a boy here who has five barley loaves and two fish. But what are they among so many people?" Can you hear how he is discouraged, like we are discouraged.
I am constantly surprised, encouraged and challenged at how much you have given and give to people in need and the volunteer hours you clocked up and continue to clock up for the causes you believe in. You humble me and inspire me. So I know that you will empathise with the disciples here. I won't be surprised, knowing your heart, that the words of the disciples have been on your lips. We wish we could do more, we wish we could give more…more than what we are doing and giving now.
The disheartened response at the enormity of need and suffering at hand shows that we feel the pain of the world, we feel the weight of the problems on our shoulders. It is a lament. The discouraged response at the reality of how small, how little we have in our hands, in comparison to the problem that looms large and endless, shows that we actually want to do something. We are willing. It reveals our desire for a community healed, for a community made whole, for a world to be a better place for all.
As much as it reveals our lamenting heart for our broken world and a desiring heart for a better world, our responses also reveal something about the deception we have accepted as being true. The other side of our responses on the lips of Philip and Andrew reveals that we assume more money and more things would make this world a better place for all.
Of course, we need food to feed the hungry. Of course, we need money to buy the necessities of life for those who can't afford it. I am not saying we can be naïve and think money has nothing to do with. However, I think it is true that we sometimes uncritically accept that more money and stuff will make the world a better place. Only if we had more money, only if we had more of the necessary things?
Another way of seeing this is that we believe there is lack of something. We don't have enough money or things necessary for life. We focus on what we don't have. We focus on what we can't give. 6 months' worth of wages that we don't have to give, for instance. But what about what we do have. Well, we say: "It's not enough." What are 5 barley loaves and two fish among all the needs of the world? Jesus challenges this way of thinking and believing by what he does with the offering of the child.
Jesus takes the offering of the child. He gives thanks. He blesses it. Then Jesus distributes it to all. All are fed until satisfied.
There are two miracles here. One is that Jesus feeds the 5000 with just 5 barley loaves and 2 fish. It doesn't surprise me that God can miraculously provide. The God I believe in is God who creates, who raises Jesus from the dead.
However, what I marvel at, what I consider to be the greater miracle is this. That God in Jesus would take what we would offer that which is to us a great disappointment. While we are disappointed, while we may be critical and judgmental of the pitifulness of the offering, Jesus is grateful and is grateful to his Father, that this is the offering of faith. Jesus the Son of God takes what we deem to be not enough and declares it as a blessing. When we lose heart and often give up feeling discouraged for what we lack, Jesus is encouraged and rejoices for what we have and are willing to offer.
If we focus on the miracle of provision of food, what we are left with is a question "why doesn't God miraculously provide food all the time?" This focus shows that we continue to believe that the solution to the problem of our world is more of things. But we know this is not the case. We know the problem is more complex. The problem is historical, systematic, structural and actually human. In providing miraculously, God is making a point. God is criticizing our society, our world structure, for our wastage, our greed, our apathy. This God does stand against our world gone cold and blind to the needs of others and the world. The world should be and can be fairer yet it is not. This is the point.
If we focus on the miracle of Jesus who prays, giving thanks that someone has offered and for what has been offered, then we realise that the solution for the problem of the world is not more of something rather more of people who would offer, more generous people. People of faith who do not lose heart at what we don't have but are grateful to God for what we do have and what we can offer and that we would offer.
The divine solution for the world's problem is Jesus who reveals to us our heart, Jesus, who gives thanks to God for our longing heart for a better world, Jesus who asks us to invite him in our hearts so that we see through the deception of reliance on more money and more things, Jesus who by the Spirit can transform our hearts to believe that God would take us to be a blessing for the world that needs openness of heart, spacious heart towards one another.
Song: 'In You We Live'
Passing of the Peace of Christ: In Christ, You are included!
Song of Sending: 'Shalom'
Benediction:
The Grace of our Lord, Jesus Christ, the love of God and the communion of the Holy Spirit, be with us all now and for evermore. Amen.