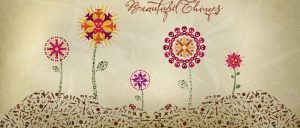 I am the Lord, your Holy One,
the Creator of Israel, your King.
Sunday Devotion 5th of September 2021
For the church of St. Mark's physically distanced but connected in heart
in the midst of uniting against COVID-19 Delta
A Song to begin with as a prayer –
Beautiful Things by Gungor
Click the link: https://www.youtube.com/watch?v=gpOPkzplHRw
Be attentive to the voice of creation. Notice the creative way that God seeks to spring forth a new thing in the midst of beauty and mire? As we move into Spring, where do you see beauty, where do you see mire? Can God make a creative way where there seems to be no way? Do you believe this? Make this your affirmation of faith for today.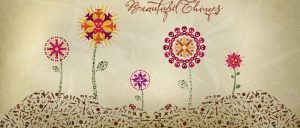 Isaiah 43:15-19
I am the Lord, your Holy One,
the Creator of Israel, your King.
Thus says the Lord,
who makes a way in the sea, a path in the mighty waters,
who brings out chariot and horse, army and warrior;
they lie down, they cannot rise,
they are extinguished, quenched like a wick:
Do not remember the former things, or consider the things of old.
I am about to do a new thing;
now it springs forth, do you not perceive it?
I will make a way in the wilderness and rivers in the desert.
Scripture reading: Luke 5:1-11
Before Simon accepts Jesus' suggestion to let down their net in the deep water, he says to Jesus "We worked all night long, and caught nothing." I have heard these words as words of a man who is disappointed, tired and defeated. However, I wondered, whether these words could also be words of a man who is disappointed and tired, yes, but by in large content and comfortable. It's really alright that we have caught nothing. We are used to this. This is how it is. We can go without nothing for a day. What if these are words of a man who is largely devoid of desire? What if Jesus' command to go out to the deep water is a reflection of a man whose spirit needs to be stirred from within the deep to life? What if the deep water here is really a reference to the primordial waters of creation?
Through Wednesday Connection, I shared with you a story of a little girl who had her birthday party during the lockdown. I was telling someone about this. Then straight away they piped up and said: "You can't do that!" What do you think? How do you find yourself reacting to this? Can you have a birthday party during a pandemic lockdown?
This is sort of a trick question, isn't it? On the one hand, it is right to become suspicious and critical about the fact that there was a birthday party in the middle of a pandemic. We hear about these demonstrations here in New Zealand flouting the rules, we see images of people gathering in large numbers at a music concert overseas inconsiderate of others, it is only natural to become suspicious.
On the other hand, if we pause to think about it before making a judgment, we start to realise that the better thing to do is to ask "What kind of a party did they have?" It's surprising how a simple question of interest opens up a whole scenario of possible birthday parties that is appropriate and fun. It may have happened within their bubble. It may have happened virtually over Zoom..
In this case, the mother found a creative way to celebrate and have a birthday party for her daughter. She used social media to reach out to her neighbours in the street to tie up balloons on their post boxes. Neighbours wanted to celebrate the little girl's birthday together so they themselves found a creative way and wrote messages on paper and stuck it on their front window. As the family went for their walk the girl realised what was going on. It was for her, her birthday party!
I want to share another story with you.
It was just as the Covid-19 pandemic had begun. A family had travelled overseas for family reasons. Due to the pandemic, there were limited transport services from the airport to where they needed to go. They had to wait for 3-4 hours in an airport which had closed off many amenities like water fountains. This was going to be a challenge with an infant needing to be fed formula every 2 hours. The bus travel to their destination would add another 3 hours. They would need water now and store it for later too.
Fortunately, there was a café open. After purchasing some food and drinks, the mother asked the vendor whether he could fill up her water bottle for her baby. The vendor said: "No, it's against the rules." She tried to explain their situation but the reply was a flat "no." The mother wasn't content with her baby going hungry for a day. She saw a cleaner. Thankfully, the cleaner was able to fill up the water bottle for her at the cleaner's room. When I heard the story, I could understand where the vendor was coming from. It is pandemic times. However, I felt for the plight of the mother with her infant.
After a while, I did wonder, was there no creative way to meet the needs of the mother with her infant? I don't mean being flexible with the pandemic rules. Indeed these times call for firm regulations. I also don't mean common sense. For these times necessitate reliance on expert advice. Rather, I mean finding another way to provide water for her safely within the boundary of the rules? Just saying "no" seems to suggest to me that the vendor has no time for the plight of the woman and her infant. If the vendor wanted to help, would he not find a way, safe and rule abiding way, or at least try?
What I see in these two stories is of a mother who desires to provide good for her child, who is not content and comfortable with just going without. At the same time, I see how when you desire something we become creative. Within the parametres of reality, we find a creative way because we desire to see it happen.
Jesus calls us to go to the deep. Let us go to the depth of our being with Jesus. There let our primordial being be stirred and reawakened by the Word of Creation, the Word of God, Christ Jesus, to desire God's dream for our world. The Spirit of God has planned for us something not merely for ourselves but for the joy of community, joy of seeing people, otherwise kept separate, coming together and celebrating. Because when we desire this, this desire of God, we will reflect God, by whose image we are made, that is, we will find a way, we will be creative. Now, that's not surprising, for Christ Jesus, the Creative Word, is the way, the truth and the life.
_________________________________________
Questions for Prayerful Reflection

What do you desire? What stirrs your heart to life?
What would it mean for Christ Jesus, the Creative Way, to fulfill this desire of yours towards God's desire to see community rejoicing together?
What would be the creative way that will see this happen?
A song for prayerful reflection:
See the Love by The Brilliance
Click the link: https://www.youtube.com/watch?v=e9dBcE4A6l8
_________________________________________
A song to sing along!
Guide Me, O Thou Great Redeemer
Click the link: https://www.youtube.com/watch?v=Ofp6rdAgRrY
The Benediction:
The Grace of our Lord Jesus Christ,
the Love of God,
and the Communion of the Holy Spirit
be with us all, now and always, Amen.