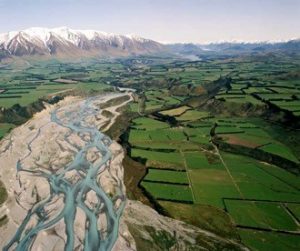 See, I will create new heavens and a new earth. The former things will not be remembered, nor will they come to mind. But be glad and rejoice forever in what I will create on my holy mountain, says the Lord.
Welcome to the gathering of St. Mark's Church (Sunday worship under one roof) Sunday, September 26th, 2021.
How are you? It's been 6 weeks since we last gathered together for worship of the God of Jesus Christ, can you believe that? Delta variant of COVID-19 that was wrecking havoc overseas had finally reached our shores. When it did, the whole nation mobilised, just as we had done before into bubbles and into lockdown.
Lockdown isn't easy. I should actually be honest and say, it's hard. At times it did feel like a dread and frustration and impatience crept up, in one way or another, for all of us. For some it seems they focused only on the word lockdown and what they can see immediately. I can't do what I want. I am house bound. I am being restricted. I am forbidden. Sometimes we forget the why. We overlook the reason, we lose sight of the cause. We need eyes to see what we can't see or even that which we refuse to see.
While we locked ourselves down, those who were infected could be treated with utmost caution, taking time to get it right. While we persisted with the measures, the rate of infection began to wane as the virus could no longer invade human bodies, those who could very well have been our grand parents, our children, family, friends and, in fact, you and me. As we resisted the notion of freedom for my sake, as we count our costs of personal restriction for weeks, we give the opportunity of freedom for all for many months.
Perhaps how we talk about this fails us. I have noticed myself asking people: "how was your lockdown?" I don't mention the reason, the cause. Perhaps its best to say: "how did you get on saving lives under lockdown?" I remember one of our member saying that there were days when it was really difficult being in a bubble alone. In one of those days, something clicked and switched, and was reminded of the cause: I am doing this for somone, I am doing this to help someone, and just like that determination and strength of will soared.
You are heroes! We ought to be proud! We haven't got there yet, but we will, let's keep up the good work. Can I invite you to do this. Turn around and meet the eyes of those around you and across the aisle. When your eyes meet, give a nod of acknowledgment for the great effort we have put in together?
Here is Scripture from Isaiah for us to reflect on as we open our hearts and minds, to hear the voice of God, in these words for me, for you, for us, for the world, for all creation. It is entitled: Good News from the Holy Mountain
Isaiah 65:17-25
Good News from the Holy Mountain
"See, I will create
new heavens and a new earth.
The former things will not be remembered,
nor will they come to mind.
But be glad and rejoice forever
in what I will create,
for I will create Jerusalem to be a delight
and its people a joy.
I will rejoice over Jerusalem
and take delight in my people;
the sound of weeping and of crying
will be heard in it no more.
They will build houses and dwell in them;
they will plant vineyards and eat their fruit.
No longer will they build houses and others live in them,
or plant and others eat.
For as the days of a tree,
so will be the days of my people;
my chosen ones will long enjoy
the work of their hands.
They will not labour in vain,
nor will they bear children doomed to misfortune;
for they will be a people blessed by the Lord,
they and their descendants with them.
Before they call I will answer;
while they are still speaking I will hear.
The wolf and the lamb will feed together,
and the lion will eat straw like the ox,
and dust will be the serpent's food.
They will neither harm nor destroy
on all my holy mountain,"
says the Lord.
This is a song of a vision, vision of a world recreated by God from the holy mountain, from on high.
Have you noticed something potentially strange? In this new vision of God's world, what is new isn't necessarily new. "They will build houses and dwell in them; they will plant vineyards and eat their fruit." As simple as having roof over our heads, putting our hands to the plough and to harvest the fruit of the work of our hands, isn't this what we need to satisfy the deepest of our desires? To have connection, to see the children thrive and the next generation have a future?
What's new about this?
In the bible, mountains feature as holy places. Can you think of stories in the bible where mountains appear? Mount Sinai, where Moses meets God in the burning (but not consumed) bush, Mount Horeb where 10 Commandments were given, Mount Zion the spiritual vision for Jerusalem as the dwelling place of God, the Mount of Transfiguration, Golgotha or Calvary where Christ was crucified.
Can you see a pattern here? What may be the pattern here is that of "seeing." A revelation. A moment of clarity. That's not surprising. You will have those experiences from tramping. You get to a clearing, the summit, and a whole new vision is laid before you. A perspective from on high, a vision of liberation that comes from being up on high.
What is new about this is a renewed sense of appreciation for what seems normal and mundane, what seems ordinary when threatened, when taken away. It is when musts, shoulds, oughts, that we demand are received and given as gifts, when the basics of our lives are experienced as the basis of life.
However, something dramatically new will happen so that it is no longer a vision from on high but a vision indeed from the ground. When God's new creation comes, what we consider to be "natural," the status quo, will pass away for a new way of being:
The wolf and the lamb will feed together,
and the lion will eat straw like the ox,
they will neither harm nor destroy
What will you see clearly today? Will you come to the mountain? God is inviting us to the holy mountain of God.
I invite you now to a time of prayerful reflection.
Prayerful Reflection:
Reflection song: Breaking through by Michael Gungor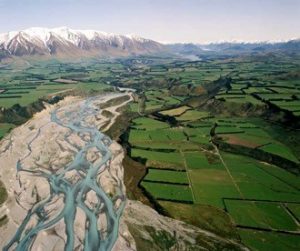 See, I will create new heavens and a new earth. The former things will not be remembered, nor will they come to mind. But be glad and rejoice forever in what I will create on my holy mountain, says the Lord.

Choir singing: 'Where Mountains Rise To Open Skies'  
 Welcome and Notices:
Celebrations:
Praying the Psalm:
Today we will pray together the beginning section from Psalm 48. In this psalm a vision is prophesied, a vision of God's Holy Mountain being grounded and manifested in the people of God. Such city, citizens of such a city, the community of new vision will be a beauty to behold, a blessing of joy to the world.
In this prayer, the community that manifests the vision of God's Holy Mountain on the ground, is imagined as the city whose fortress is God. As the community's spiritual core is in the meditation of God's unfailing love, the people of God will become the bastion against the forces of destruction. This shall be the cause for his praise!
People of God, who do you think you are? What is the cause to which God has called you? God has called you as the bastion of love in this world against the forces of destruction. You are chosen for a higher calling than self-centred, polemic factionism and tribalism. You are chosen to have the perspective from the holy mountain for love, for love that God intends and works for our world. Let us pray this psalm together as a manifesto of the people of God, the bastion of love on earth, for the world God so loves, the peoples, and all of creation – the rivers, the sea, the land, the mountains, the skies and all creatures that fill it.
Please respond with the words in bold.
Psalm 48:1-11 (NIV) adapted for worship
In the city of our God, his holy mountain,
Great is the Lord, and most worthy of praise.
Beautiful in its loftiness,
the joy of the whole earth,
like the heights of Zaphon is Mount Zion,
the city of the Great King.
God is in her citadels;
he has shown himself to be her fortress.
When the kings joined forces,
when they advanced together,
they saw her and were astounded;
they fled in terror.
As we have heard,
so we have seen
in the city of the Lord Almighty,
   in the city of our God:
God makes her secure forever.
Within your temple, O God,
we meditate on your unfailing love.
Like your name, O God,
your praise reaches to the ends of the earth;
your right hand is filled with righteousness.
Mount Zion rejoices,
the villages of Judah are glad
because of your judgments.
Prayer for Others
We will pray the Lord's Prayer together
[Offering brought forward]
Offering Prayer
Choir singing: 'We Plough The Fields, And Scatter'  
Scripture Reading:
Mark 9:38-50 (The Message)
38 John spoke up, "Teacher, we saw a man using your name to expel demons and we stopped him because he wasn't in our group."
39-41 Jesus wasn't pleased. "Don't stop him. No one can use my name to do something good and powerful, and in the next breath slam me. If he's not an enemy, he's an ally. Why, anyone by just giving you a cup of water in my name is on our side. Count on it that God will notice.
42 "On the other hand, if you give one of these simple, childlike believers a hard time, bullying or taking advantage of their simple trust, you'll soon wish you hadn't. You'd be better off dropped in the middle of the lake with a millstone around your neck.
43-48 "If your hand or your foot gets in God's way, chop it off and throw it away. You're better off maimed or lame and alive than the proud owner of two hands and two feet, godless in a furnace of eternal fire. And if your eye distracts you from God, pull it out and throw it away. You're better off one-eyed and alive than exercising your twenty-twenty vision from inside the fire of hell.
49-50 "Everyone's going through a refining fire sooner or later, but you'll be well-preserved, protected from the eternal flames. Be preservatives yourselves. Preserve the peace."
Philippians 2:1-5 (New International Version)
Therefore if you have any encouragement from being united with Christ, if any comfort from his love, if any common sharing in the Spirit, if any tenderness and compassion,
then make my joy complete by being like-minded, having the same love, being one in spirit and of one mind.
In humility value others above yourselves, not looking to your own interests but each of you to the interests of the others.
In your relationships with one another, have the same mindset as Christ Jesus.
Sermon Reflection:
I used to think being nice is good, being angry is bad. It's not as simple as that though, is it? I used to think, being nice means being kind and being angry means being unkind. In other words, I am challenged to think that you can be nice and unkind, you can be angry and be kind. I am challenged to think this way because of Jesus.
Jesus isn't being nice here. Jesus isn't pleased is a euphemism for Jesus is angry. However, I also think that Jesus is being kind too. Here Jesus is talking to his disciples, the closest of his disciples, who wants to learn and follow Jesus.
It so happens, the disciples, the twelve, who bear his name, just before this incident, had been arguing, not discussing, arguing, "who among them is the greatest?" Taking exception to their name not being mentioned, taking offence at being ranked below him! To which, Jesus teaches them that such small thinking has no place in the community he gathers and who follows him. They are to think big, think deep, and, therefore, be known by service and known by welcoming children, for such mindset and heart, is the channel of God.
A verse later, we hear that Jesus is angry with the twelve, those closest to him. They are trying to stop people using his name to drive out evil that demonise people. It is down right factionalism, partisan thinking, polemically driven, small mindedness. It is down right sense of entitlement! We are Jesus' followers, you must belong with us, which really means, you must come under us, under our control.
Of course, Jesus would be angry. His partners, in carrying out the mission of God's love for the world, they are misguided and misdirected. The disciples have lost sight of what they have been called and gathered for. The nature of their arguments and concern are not only misplaced but directly opposed to the very concerns of Christ's mission.
In the daily grind, sometimes we find that we lose sight of who we are. We forget for what we have been called for and by whom. Sometimes we not only forget but we miss the forrest for the trees. We have lost touch with the very reason we do what we do, the very cause that drives us, the very path that we have begun on. We are disconnected from the basics so much so we are no longer appreciative of them as the basis of our being.
Christ has called us for a higher and deeper calling. Christ calls us to the holy mountain to go deep into it's interior and to walk the path up to the holy mountain our Lord has trodden so that we have a mountain-view appreciation of our lives and work of love on the ground. To see with clarity the very reason, the very motive for what we do.
The very holy mountain that we go deep into and rise up high towards is none other than the path that leads to Calvary. This path cannot be mistaken for nothing else. It has the very gravitational marks of the weight of the cross carried by the feet of Jesus. This is the path we are on. Christ now calls us to carry our cross, along this cross way.
For us, there is no other way for peace. The way of the cross is the way of peace. Christ calls us to see this clearly. To preserve this peace of Christ, we must be clear sighted so that we preserve what is worth preserving and letting go of things that weigh on us unncessarily, thost that no longer serves the truth of our calling.
Let us do this so that we ourselves may be the peace against the forces of destruction, polemic, tribalism by having the same love, being one in spirit and of one mind, in humility valuing others above ourselves, not looking to our own interests but each other's, just as Christ has in his way towards us. Let us do this so that we live out our high and deep calling to be the bastion of love for this world that God so loves. Then we shall partner with God in the Spirit's recreation of our world according to the pattern of Christ Jesus, the Way, the Truth and the Life.
This is who you are called to be! This is who you are! You are a bearer of this beautifully high and deep calling. Don't you dare underestimate, undervalue yourself! Let God clear away the daily grind that grinds us to ordinariness. Let God lead you towards the mountain top, upon Calvary, to see you are loved beyond all measure and, beyond all measure, your love makes all the difference how little or how big.
HYMN Lyrics: Mary Pearson. Tune: Thornbury, WOV 389
We wait upon the mountain,
our hearts and minds confused,
to penetrate the mystery
of love by light suffused.
The darkness of our living
obscures our sight till we,
with fear changed into boldness,
find life in Christ set free.
We find new inspiration
in glimpses of your grace;
we see once more before us,
your love with human face.
We see again the mystery
of Christ on earth, and find
life given for the needy,
and poor of humankind.
No selfish place of safety
will keep us in the light;
it's only in life's valleys
we truly find our sight,
O help us heed the prophets,
and clear our eyes to see:
the way you show before us,
where now our steps should be.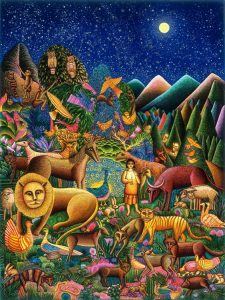 Choir singing: 'Lift High the Cross'  
Benediction
The Grace of our Lord, Jesus Christ,
the love of God
and the communion of the Holy Spirit,
be with us all
now and for evermore. Amen.