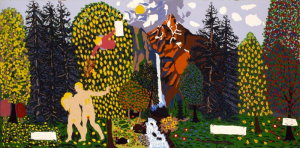 The Word of God is able to judge the thoughts and intentions of the heart. And before him no creature is hidden, but all are naked and laid bare to the eyes of the one to whom we must render an account. And we have a high priest who is able to sympathise with us in every way.
Welcome to the gathering of St. Mark's Church (Sunday worship under one roof) Sunday, October 17th, 2021.
Hebrews 4:12-16 (NRSV)
12Indeed, the word of God is living and active, sharper than any two-edged sword, piercing until it divides soul from spirit, joints from marrow; it is able to judge the thoughts and intentions of the heart. 13And before him no creature is hidden, but all are naked and laid bare to the eyes of the one to whom we must render an account. 14Since, then, we have a great high priest who has passed through the heavens, Jesus, the Son of God, let us hold fast to our confession. 15For we do not have a high priest who is unable to sympathize with our weaknesses, but we have one who in every respect has been tested as we are, yet without sin. 16Let us therefore approach the throne of grace with boldness, so that we may receive mercy and find grace to help in time of need.
Here we are gathered together by our God of Jesus Christ to worship, to hear the word of God towards the world, towards us, to God's creation. How do you hear God's word? Often God's word is one of comfort, renewal and delight. At times, God's word is sharp. God's word is precise. There is no compromise, nothing convoluted, yes is a yes, no is a no.
At times, sharp and precise word of God is just what we need to hear. Today we hear and listen to words that are there to convolute and to make us compromise, don't we? Those words that deliberately muddy the waters to create chaos and flatter us with empty platitudes to win favour. Words concealed, wolf clothed in sheep's clothing. What about us personally, what about our community, our generation? Beneath the skin our intentions, our inner workings are hidden.
How would you hear God's Word today? How will you hear and see Christ, the Word of God, who is crucified naked before the world? Will you open up to God's word that is sharp and precise? Will you come laid bare to God's gaze? Will you hear the sharp and precise word of God in love that at times we need to be revealed to find freedom? We need God to cut through the noise to find our God-given voice to sing, we need God to tell us who we are underneath the layers of our pretenses and appearances? We need to be brave to do this. It is an act of vulnerability that opens opportunity for transformation.
So, let us come to God to hear God's sharp and precise word without fear and without being defensive for it is in Christ Jesus through whom God understands us, the one who is one with us inside and out, who loves us laying bare all of himself to us even to death.
I invite you now to a time of prayerful reflection.
Prayerful Reflection:
Reflection song: Psalm 19 by Jess Ray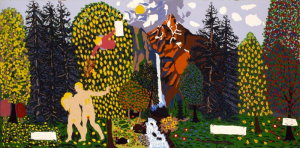 Adam and Eve leave Eden by John William
The Word of God is able to judge the thoughts and intentions of the heart. And before him no creature is hidden, but all are naked and laid bare to the eyes of the one to whom we must render an account. And we have a high priest who is able to sympathise with us in every way.
Singing: 'God Whose Almighty Word'
Welcome and Notices:
Praying the Psalm:
Today we will pray together the concluding part of Psalm 90. I want to paint the situation for us to pray these words as our words for this time we live in.
If you get a chance to read the beginning section of this Psalm, you will notice the mood is quite the opposite to the latter part of the psalm. It lays bare the brevity and vulnerability of human life. Human condition is a hopeless case. Our experience is either life that is unfairly short or life that is endlessly long. Even at times as if God must be against us.
It is at this most hopeless and vulnerable point that the psalm takes the most dramatic turn. On the very notion of vulnerability and brevity of human life that was once a cause of hopelessness becomes a moment of prayer, a moment of facing God. Knowing well our vulnerability and brevity is a cause for wisdom.
Our pretensions and appearances for human autonomy and immortality is laid bare in counting our days. Our vulnerability is the possibility of hope, opportunity for hope, the hope of God. When we take this wisdom to heart, we entrust our daily life and our future to God.
Such a wise heart offers us the courage and energy to live each day to the fullest for God's sake. This is what gives us hope and meaning to our work partnering with God for manifesting God's dream for the world God so loves. So one theologian suggests that this is what we are praying:
"Lord, teach us to make each day count, to reflect on the fact that we must die, and so become wise."
Psalm 90:12-17 (The Message) adapted for worship
Teach us to count our days
that we may gain a wise heart.
Oh! Teach us to live well!
Teach us to live wisely and well!
Surprise us with love at daybreak;
then we'll skip and dance all the day long.
Make up for the bad times with some good times;
we've seen enough evil to last a lifetime.
Let your servants see what you're best at  —
the ways you rule and bless your children.
And let the loveliness of our Lord, our God,
rest on us,
confirming the work that we do.
Oh, yes. Affirm the work that we do!
Prayer for Others
We will pray the Lord's Prayer together
Our Father in heaven hallowed be your name.
Your kingdom come, your will be done on earth as in heaven.
Give us today our daily bread, forgive us our sins, as we forgive those who sin against us.
Save us from the time of trial and deliver us from evil.
For the kingdom, the power, and the glory are yours, now and forever. Amen.
[Offering brought forward]
Offering Prayer
Singing: 'Every Day I Will Offer You'
Scripture Reading: Mark 10:17-31
17As he was setting out on a journey, a man ran up and knelt before him, and asked him, "Good Teacher, what must I do to inherit eternal life?" 18Jesus said to him, "Why do you call me good? No one is good but God alone. 19You know the commandments: 'You shall not murder; You shall not commit adultery; You shall not steal; You shall not bear false witness; You shall not defraud; Honour your father and mother.'" 20He said to him, "Teacher, I have kept all these since my youth." 21Jesus, looking at him, loved him and said, "You lack one thing; go, sell what you own, and give the money to the poor, and you will have treasure in heaven; then come, follow me." 22When he heard this, he was shocked and went away grieving, for he had many possessions.
23Then Jesus looked around and said to his disciples, "How hard it will be for those who have wealth to enter the kingdom of God!" 24And the disciples were perplexed at these words. But Jesus said to them again, "Children, how hard it is to enter the kingdom of God! 25It is easier for a camel to go through the eye of a needle than for someone who is rich to enter the kingdom of God." 26They were greatly astounded and said to one another, "Then who can be saved?" 27Jesus looked at them and said, "For mortals it is impossible, but not for God; for God all things are possible."
28Peter began to say to him, "Look, we have left everything and followed you." 29Jesus said, "Truly I tell you, there is no one who has left house or brothers or sisters or mother or father or children or fields, for my sake and for the sake of the good news, 30who will not receive a hundredfold now in this age—houses, brothers and sisters, mothers and children, and fields with persecutions—and in the age to come eternal life. 31But many who are first will be last, and the last will be first."
Choir:  'The Blue Green Hills of Earth'                Paul Winter
Sermon Reflection:
Today we began with the scripture passage from Hebrews. It says
"No creature is hidden, but all are naked and laid bare to the eyes of" God. Can you think of a story in the bible that speaks of hiddenness and nakedness? In the Garden of Eden, the man and the woman were naked but were not ashamed. However, when they did the one thing that they were told not to do, they saw that they were naked and found leaves to cover themselves. When they heard God, the man and the woman, hid themselves.
Do you remember that curious incident on Mount Sinai, where Moses sees a burning bush but yet not consumed? As Moses takes the courage to take a closer look, God's voice is heard: "Do not come any closer. Take off your sandals, for the place where you are standing is holy ground." In other words, stand on the holy ground on bare feet, naked feet, that is, don't hide your feet.
The biblical wisdom says we are fully alive, we live life to the fullest, when we love God and love our neighbour, that is when we are connected to God and connected to our neighbour. Perhaps another way to put this is our lives are abundant when we do not hide from God and from our neighbour. God does not hide from us, God is always calling to us, just as it was in Eden. When Adam and Eve hide from God, God calls out "where are you?" They say they hid from God because they were afraid. They were afraid because they were naked. Because they realised they were naked, they cover themselves, they hid themselves.
Perhaps "nakedness" is a metaphor for human vulnerability. Human vulnerability, which was always a good thing, until we realise we are vulnerable. We realise we are vulnerable when we realise there is ill-intention towards us, when we sense that there could be a power that is against us rather than for us. When we realise we are vulnerable, we guard up, we don't let our guards down, because now every power is suspicious, even power of love, the love of God.
We guard up with what we can control, therefore, what we feel we can trust. We put on our nakedness a layer that we can protect our vulnerable selves with from facing and embracing the rawness of which we perceive as potentially dangerous. I wonder whether we do this until we can't tell the difference between our bare skin and the fabric we have put on ourselves, until we believe this is who we are, until this, keeping God and our neighbour at an arm's length, always at a distance, seems natural, as if this is what it was always meant to be. We believe in our fabricated self. We do this albeit subconsciously.
I wonder whether you have experienced this. I know I have. Those times when we realise we have covered ourselves up, we have hidden ourselves, that we have a fabricated life. You know those moments when you are fine, you are in a good space, but then in a conversation with someone they mention something and it triggers something in you, a pain, sorrow, fear, a longing, you didn't know you had or even you thought you had hidden away. It rises from the deep to the surface to be seen. Do you know these moments for yourselves? Perhaps it's also like those times we go to our doctor complaining of one thing and we leave with a revelation of what really is the pressing concern.
In the Gospels, often people come to Jesus and fall on their knees. When they do, it is because they want to be healed. In most cases, they receive their healing from Jesus and they go rejoicing having been liberated. There is a curious incident in our Gospel reading. It's curious that this man comes to Jesus and kneels before him. Is this a sign? Is this a biblical cue that this man needs healing? In the modern world, we are fixated on healing of our bodies. But thank God, we are starting to take mental health seriously. But what about spiritual health? Could we understand this scripture reading as a healing story, healing of his spirit?
This person is sincere. This person wants to do the best. He has been living life in ways that loves God and loves his neighbour. We must not read into this a sense of hypocrisy on the part of the person. When Jesus sees hypocrisy, you will know about it. Here Jesus loves. Jesus loves the man who is sincere and wants to do the best. This person loved by Jesus comes to Jesus with a sincere concern. After seeing Jesus, the man leaves with the revelation of the concern that is truly pressing. Jesus presses upon the one thing that makes all of us rather vulnerable – my wealth. Jesus says "You lack one thing…" not to criticise, not to show him up, but because Jesus loves him.
The person is shocked. Would you be shocked? I would because just like this man I have many possessions. It is impossible and even unrealistic expectation that Jesus puts on the man. Go, sell what you own, and give the money to the poor, then come, follow me. The one last thing, Jesus says is wealth. Another way to put what Jesus means by the one last thing, is perhaps, everything. You can have all of this but not this. Perhaps, this is everything.
I wonder whether this is true for all of us living in this global financial world. If what Jesus says 2000 years ago was true back then it is blatantly true in today's world. I used to read this scripture by substituting wealth with all sorts of other things. But now I realise personal wealth is the one thing that I lack, the one last thing that keeps me from God and from my neighbour. My wealth has become that layer that which guards me from vulnerability. My wealth hides my vulnerability. My wealth allows me to live in ways that I am not dependent on others, dependent on God. When my wealth is gone, I will truly know I am dependent on God and dependent on others.
"Children," Jesus says to us, "how hard it is to enter the kingdom of God!" "It is easier for a camel to go through the eye of a needle than for someone who is rich to enter the kingdom of God." The kingdom of God, that dream of God of seeing heaven on earth, we see eventuate in Jesus. Jesus throws himself to us, all of himself. Jesus, who is the Word that created all that is, stoops down through the eye of the needle in humility to come as one of us naked, vulnerable into the world. Jesus comes in humility and vulnerability to lead the world into the kingdom of heaven, where we are vulnerable to God and to one another, to taste and see how we are dependent on God and one another, how this is truly the richness of our lives.
Jesus's words are sharp and precise. Makes us uncomfortable, if not, upset, on edge, and worst indifferent to it. For this he was killed because he came too close to our skin underneath sharp and precise revealing the layer as fabricated. Yet our Father in heaven vindicated Jesus in raising him to life, eternal life by the Spirit, that Jesus' vulnerable and dependent life on God and his brothers and sisters is the truth, the way, and the life.
Children of God, Jesus is the surgeon of the soul. As the word of God, word of God that is sharp and precise, Jesus cuts away at the layer that has so finely laid over our bare skin over the years, over generations, that we can no longer tell where our bare skin begins and ends. Thank God, Jesus, the word of God is sharp and precise, dividing between joints and marrow, soul and spirit, so that God divides between that which we hide behind and that which is truly ourselves because he loves us. Let us come to Jesus to see who we truly are and be healed.
I want to finish with a story. I remember going to Korea to visit Lisa's parents. When we were there we visited one of the great mountains of South Korea by the East Coast, Sul-Ak-San. After our tramping, we went into one of the small towns at the foot of the mountains. There they had a geothermal spring. The people of the town made a resting area for trampers. They created a small trail for the hot water to flow through and people could walk on it. We gladly took our shoes off, revealing a wrinkled, whitish, swollen feet, heavy feet. My legs were heavy, my feet sore. We dipped our feet into this magically relaxing flow of water. It was heavenly.
However, there was a little trail as I said. This trail had bits and pieces of pebbles and stones all over. Now that would hurt, right? Well, apparently that is the point. Apparently, that helps with massaging your feet and helps with circulation. It did hurt. I could feel every aspect of each stone on my bare feet. Lisa thought it was a good idea and she was taking this positively and she was well ahead of me. I stretched my hands out to her with sobby eyes asking her to rescue me, she said: "It's good for you." And she smiled. I think she was secretly enjoying this, every time I gave a yelp. But I trust her. I'm sure she meant what she meant. It's good for me. Well, it was. After finishing the stone trail, my feet felt good, I felt good, refreshed, wholesome, healed. I didn't want to wear my shoes again.
Reflection song: Great love is a fragile thing by John Lucas
Rich man, rich man, strive no longer
Bow through the needle's eye
Enter, enter, the land of promise
The peace you cannot sell nor buy
Lay your treasures at the feet of
The child who came for us
Oh, great love is a fragile thing
That raises the dead in us
Singing: 'Take My Life And Let It Be'
Benediction:
The Grace of our Lord, Jesus Christ, the love of God and the communion of the Holy Spirit, be with us all now and for evermore. Amen.