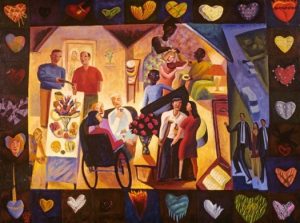 We come to your feast,
the young and the old,
the frightened, the bold,
the greatest and the least.
We come to your feast,
with the fruit of our lands
and the work of our hands.
Welcome to the gathering of St. Mark's Church (Sunday worship under one roof)
Sunday, November 7th 2021.
Choir:  'Kyrie' from Mass in G by Schubert
Isaiah 25:1-6, 9
O Lord, you are my God; I will exalt you, I will praise your name; for you have done wonderful things, plans formed of old, faithful and sure. For you have made the city a rubble, the fortified city a ruin; the palace of invaders is a city no more, it will never be rebuilt. Therefore powerful nations will glorify you; cities of ruthless oppressors will fear you. For you have been a refuge to the poor, a refuge to the needy in their distress, a shelter from the rainstorm and a shade from the heat. The ruthless oppressors are like a winter blizzard and vicious invaders like high noon in the desert. But you are the shelter from the storm and shade from the sun, and you still the noise of big-mouthed bullies. On this mountain the Lord of hosts will make for all peoples a feast of rich food, a feast of well-aged wines, of rich food filled with marrow, of well-aged wines strained clear. On that day, it will be said: This is our God; we have waited for him, so that he might save us. This is the Lord for whom we have waited; let us be glad and rejoice in his salvation.
Together, gathered and enfolded by the love of God, we worship the God of Jesus Christ by whose grace saves us. God saves us from powers that bid us to conquer, bid us to divide, bid us to build a home for ourselves at the expense of others. As we worship, the God of Jesus Christ together, let us discern so that we may resist and turn away from ways of plundering and death. In turning away, let us open our hearts to the God who saves us from a house of death to build with us a home of abundant life for all – a home of refuge, sanctuary, and sharing. Let us join in with God in the work of his salvation, a work of breaking down systems of injustice, and building up communities of sanctuary for it is for a feast of life that we are invited to for joy, peace and love.
I invite you now to a time of prayerful reflection.
Prayerful Reflection:
Reflection song:  We Come To Your Feast  David Haas et al.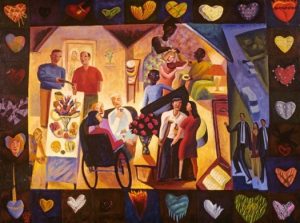 The Party by James B. Janknegt
We come to your feast,
the young and the old,
the frightened, the bold,
the greatest and the least.
We come to your feast,
with the fruit of our lands
and the work of our hands.
Song: In Christ Alone My Hope Is Found
Welcome and Notices
Praying the Psalm
We will pray a psalm together. Before we do, let me give an explanation. There is a sense in which this Psalm arises from the reality of humanity. As beautiful as we can be, we are limited in that our ways towards one another, towards the world, therefore towards God can be destructive. Yet like a compassionate parent, God looks upon us with love that forgives and restores. In spite of our limitations and mortality, this shall not define us. What shall define us is an everlasting promise of God's love. If so, we are implored that we live as the children of God, living according to the way of truth and life as God's children.
Friends, what does it mean to look squarely at our limitations and mortality? How does this implore us to live? If God's love is everlasting, greater than our limitations and mortality, does this spur us to live not for ourselves but for one another therefore for God? What does it mean to be forgiven for our ways that are destructive to ourselves and to others and our world?
Please respond with the words in bold.
Psalm 103 adapted for worship
The Lord is compassionate and gracious,
slow to anger, abounding in love.
he does not treat us as our sins deserve
or repay us according to our iniquities.
For as high as the heavens are above the earth,
so great is his love for those who fear him;
as far as the east is from the west,
so far has he removed our transgressions from us.
As a father has compassion on his children,
so the Lord has compassion on those who fear him;
for he knows how we are formed,
he remembers that we are dust.
The life of mortals is like grass,
how we flourish like a flower of the field;
the wind blows over and it is gone,
and its place remembers it no more.
Yet from everlasting to everlasting
the Lord's love is with those who remember him,
and his righteousness with their children's children—
with those who keep his covenant.
Prayer for others
Lord's Prayer
Offering
Offering and Dedication Prayer
Song: O Love That Will Not Let Me Go
Scripture: John 14:1-23 (abridged)
14 "Do not let your hearts be troubled. You believe in God; believe also in me. 2 My Father's house has many rooms; if that were not so, would I have told you that I am going there to prepare a place for you? 3 And if I go and prepare a place for you, I will come back and take you to be with me that you also may be where I am. 4 You know the way to the place where I am going."
5 Thomas said to him, "Lord, we don't know where you are going, so how can we know the way?"
6 Jesus answered, "I am the way and the truth and the life. No one comes to the Father except through me. 7 If you really know me, you will know my Father as well. From now on, you do know him and have seen him."
8 Philip said, "Lord, show us the Father and that will be enough for us."
9 Jesus answered: "Don't you know me, Philip, even after I have been among you such a long time? Anyone who has seen me has seen the Father. How can you say, 'Show us the Father'? 10 Don't you believe that I am in the Father, and that the Father is in me? The words I say to you I do not speak on my own authority. Rather, it is the Father, living in me, who is doing his work.
19 Before long, the world will not see me anymore, but you will see me. Because I live, you also will live. 20 On that day you will realize that I am in my Father, and you are in me, and I am in you. 21 Whoever has my commands and keeps them is the one who loves me. The one who loves me will be loved by my Father, and I too will love them and show myself to them."
Anyone who loves me will obey my teaching. My Father will love them, and we will come to them and make our home with them.
Sermon reflection:
I am particularly fond of the word "home." It resonates deeply in me. Yes for sentimental reasons but also because of the reality that home is not perfect and in that sense we long for home. Somewhere between in our lives, we experience "home" that forms in us a longing for more, a longing for permanence.
Home is not necessarily bound to our nuclear family or a house we have lived the longest. Many voyagers, sojourners, travellers, migrants, know that a home can very well be a nation, a land, a river. It isn't necessarily bound to what has been either. At different times and in different leg of our journey through life, we continue to look for home. This is all the more true when our loved one has died.
Once home was my parents, my spouse, my siblings, my cousins, my child. When they die, home shall still be found. We carry on with our journey. This is not to say we forget our loved ones who have died. It is to say that home once experienced grows. As much as home is a gift we have received from those who have passed on, it is also a gift we give to one another now and to those who are yet to be. Home is made together.
When we experience a death of our loved ones, it is as if our world tumbles down. What we had built together falls down. All that once was beautiful comes undone. As we pick ourselves up in the midst of the dust and rubble, we begin to pick up the pieces. We see the memories it holds. Slowly we begin to rebuild with what has been gifted to us. In the midst of the rubble we find the treasures with which we shall rebuild and grow our home with those around us, those we shall encounter.
Home is all of these things – a belonging, a sanctuary, a hope. All of which are fruit of love. It is love that builds home. Love beckons us to continue to journey and continue to seek home even after the death of our loved ones. Because what our loved ones leave behind are treasures of love imprinted in us, promises of love yet unfulfilled. Love beckons us to look further than ourselves because the home love builds is not merely for ourselves but for one another expanding and overflowing.
This is what Jesus promises his friends and this is the beckoning call of Jesus. As he predicts his death, Jesus promises that his death will be reconfigured. God his Father will do something new in him that death will not be the end but life shall be our fate. The home we have built that tumbles down with death of our loved one, in Christ Jesus, shall rise from its rubble and dust as our heavenly Father and our brother Jesus comes to us to make home with us. This is the promise of love, a hope of home.
Our labours of love in heeding to the beckoning call of God who is love, will not be undone by death but find it's place in him, where death cannot reach, the heart of God, the embrace of God. As Jesus proclaims in this mystic and poetic language: "you will know that I am in my Father, and you in me, and I in you." This is the promise for us now too that as we labour for love, heaven and earth meets in us as we are grounded and rooted in the one who is love, who has shown us love, who grows love, Father, Son, Holy Spirit, three-in-one, the Holy Trinity.
Yes, friends, love endures all things even death. So let us love. Let us not be swayed by powers other than love, gods other than God who is love, motives other than love. For what is not love shall fall away and love shall remain.
REMEMBERING THOSE WHO HAVE GONE FROM AMONGST US
So today we remember our loved ones, those who have gone from amongst us,                                                      those who have died into the care of God.
We remember those whose lives shaped us, and our life
with them. We acknowledge the sadness and the emptiness; we miss the touch, the companionship, and the shared moments that made our lives together.
We remember those who have died,
Those we have entrusted to the eternal embrace of God.                                                                                             We remember in particular those we have farewelled during this past year.
For the Congregation…
If you would like to come and light a candle in memory of someone
you wish to remember before God, please do so.
(it is helpful if the first candles are placed near the centre of the tray so that those who follow do not reach across lit candles)
So as the candles burn, we remember with gratitude those who have loved us and
those whom we loved, please, God of the ages, give us a sense of new hopefulness for they are in your eternal embrace of peace.
And so again we let them go, immensely grateful for the gift that they have been, so that we may be a gift to those around us.
God of time and eternity,
Give us your peace.                                                                                                 Surround us with your love and lead us in our life's journey.
 We entrust our  , grant us healing. Release us from the memories that bind us that we may go into life. Grant us peace that surpasses our understanding. Lead us to the tune of resounding hope to live life courageously for love.                                                                          
Choir               'A Clare Benediction'    John Rutter
May the Lord show His mercy upon you;
may the light of His presence be your guide:
May He guard you and uphold you;
may His spirit be ever by your side.
When you sleep, may His angels watch over you;
when you wake, may He fill you with His grace.
May you love Him and serve Him all your days,
Then in heaven may you see His face.
A moment of silence:
Song of Sending: 'Now As We Go'
Benediction:
The Grace of our Lord Jesus Christ
The Love of God
The Communion of the Holy Spirit
Be with us all now and forever. Amen